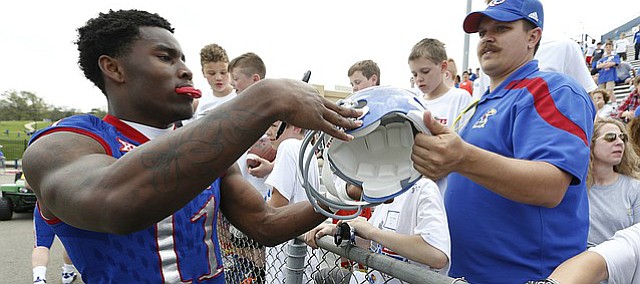 In lieu of a traditional spring game Saturday at David Booth Kansas Memorial Stadium, the Jayhawks will close their offseason practice schedule with, well, a typical practice.
Fourth-year head coach David Beaty deemed the injuries along the team's offensive line too plentiful to go through with a scrimmage.
One might theorize, though, another motive led to the decision. A year ago during KU's fan-friendly intrasquad scrimmage, safety Mike Lee leveled receiver Ryan Schadler while making a play on a pass. Maybe the Jayhawks feared Lee would injure someone with one of his hard hits this time around?
"Umm, really, I practice on not tackling people hard at practice now," a smiling Lee responded, after laughing at the hypothesis made in jest, "because we need everybody this season. I just do slight tackles, really."
Such modest contact figures to be on display at various points during Saturday's open practice, which begins at 1 p.m.
Many hoping to catch an early glance at the 2018 Jayhawks will focus their eyes on the quarterbacks, including sophomore Miles Kendrick, who joined the program as a junior college transfer this semester.
Kendrick, a 5-foot-10 dual-threat QB from Morgan Hill, Calif., admitted he had been looking forward to making his unofficial debut in the spring game before plans were altered.
"I think everyone gets excited for a game atmosphere, but we're just worried about getting better," Kendrick said. "It's another opportunity to get better. People can come and watch. These guys, they'd love to put on a show, and I'd love to put on a show, too."
Similarly, redshirt junior quarterback Carter Stanley said the spring game is an event players anticipate each year.
"It kind of has more of a game-day feel than your normal scrimmage on a Saturday. You've got the game jerseys on. Last year was cool," Stanley said of the 2017 spring game. "It's more fun for the fans, I'd say. But obviously we've had some circumstances go down and definitely some injuries. But I think the guys on the O-line have handled that well. We've got new guys getting reps, which is always great."
Added Stanley of practicing instead of scrimmaging in front of the program's supporters: "It's kind of a bummer, but we'll make do."
According to Beaty, most of the Jayhawks understood when informed there would be no spring game this year.
"I think we have a little bit more veteran team right now," Beaty said. "It really wasn't a blip on their radar. I didn't really see much out of them other than knowing that we're trying to focus on getting better as football players in all facets, so it really didn't seem like it was a big deal to those guys. Those guys want to win. They want to win in the fall. There's not going to be a true winner on that spring game. So we want to win in the fall."
Even the highlight-hungry Lee wasn't worried about losing the spring game from the offseason schedule.
"Nah. I could get a highlight every practice, but really I just don't," Lee said, grinning. "I like to take care of my players, you know. Last year I probably wasn't thinking a lot, because we really didn't hit last year at practice. So we finally got a chance to hit. I went off."
Now the safety from New Orleans approaches game-like reps with more consideration for his teammates.
"The whole team's my friends," Lee said. "We're like family."
The practice will be broadcasted on the Jayhawk Television Network, in the state of Kansas and the Kansas City metro area, and nationally on ESPN3. Audio coverage will be available via the Jayhawk Radio Network.
Prior to the team's final spring practice, KU football will have its annual alumni flag football game, scheduled to begin at noon. Former standouts Chris Harris, Bradley McDougald, Ben Heeney and Fish Smithson are among those expected to attend.