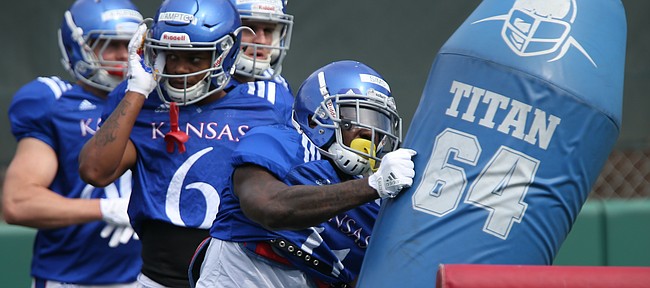 Ask Kansas football coach David Beaty what his team must accomplish this spring in order to make the offseason practice schedule successful and he won't disclose imminent changes to game plans or schemes.
While those alterations won't become uncloaked any time soon, Beaty repeatedly over the past few weeks made clear his plans to monitor players' toughness in order to gauge progress.
To make sure such a subjective word carried value and meaning for the Jayhawks, Beaty provided parameters.
"We've also been talking about it, preaching about it, what does it look like, and what is toughness. What is the definitions of toughness? And really being clear that it's not just about standing up and fighting a man," Beaty said. "It's about the things that people don't want to talk about, like disciplining yourself to set in there on fourth-and-an-inch and not jump offsides and change the complexion of a game. That's a toughness thing, right. Understanding how to do things exactly how you're supposed to do it every time. Count on one another. Those things are all toughness things."
At KU practices at least, Beaty wants the words fundamentals and toughness to become synonymous. When he and his assistants prepared for the spring by performing self-scouting reports based on the team's play in 2017, it became obvious those areas had much to do with the various woes that marred a 1-11 season.
"And it's not from a fan perspective. It's not that easy," Beaty said of identifying KU's ails. "You have to go back and look at what has created these problems and then what is the best way to fix those things. And then how do you build on the things that you're doing well, how do you continue to do that?"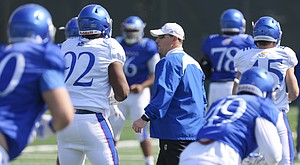 At the root of everything Beaty's staff attempts to accomplish this spring, the fourth-year head coach said, lies the basics that must be mastered to lay the groundwork for even the slightest progress. So when Beaty utters that T-word he asks his players to understand there is more to that notion that beating the man in front of you or shedding a tackler.
"Just straining every play," junior center Andru Tovi said, when asked to describe what toughness means to the Jayhawks this spring. "No time off, and also basically learning the fundamentals that you have to learn, from getting from one point to another. We have to do the little things. And technique also is a big factor to it."
The idea of knowing the most effective path from point A to point B actually qualifies as another often-referenced endeavor this spring. Beaty ties that straightforward task with all the other essentials.
"I can step to you and block you, but if I don't understand my first step, my pad level and how I strike on the rise and where my hand placement goes and my focus is not perfect, right, then I'm going to have a hard time executing," Beaty gave as an example, "because your opponent is doing that well. So we have to focus on fundamentals."
The hope among both KU coaches and players is that all of this attention to detail will benefit numerous facets of the program. Among those components falls mental toughness. Junior defensive back Bryce Torneden said lessons can be learned through missteps, no matter how big or small.
"Everything's not always going to go your way," Torneden described. "You have your bad days in practice, as well as the team. I'd just say persevering through moments like that, coming together. I think it builds mental toughness."
The hometown defensive back from Free State High also said it's important for the players to follow up on Beaty's directives and demand toughness out of each other.
"We don't want a team that's led solely by the coaches," Torneden said.
As Beaty described it, fostering toughness is one of the Jayhawks' primary objectives while trying to "close the gap" this off-season. He thinks succeeding on that front will help advance the assortment of problem areas the team wishes to address before the season begins in September.
"There's a lot of fun lines that you can draw on the board, but if you don't know how to get there, if you're not very good in the first place, you're going to be worse," Beaty said. "But if you're not very good, you can make yourself a heck of a lot better, and you can make yourself a good player if you know how to get from point A to point B. That's our job as coaches is to develop them fundamentally, so there's been a huge emphasis on that. And then finishing really with complementary football, because that's what we've really struggled with. We've had spurts of being good on defense here. We've had spurts of showing some life on offense, and we've had spurts of showing life on the special teams, but we haven't put it all together, and there's no excuse for that. We have to get that fixed."