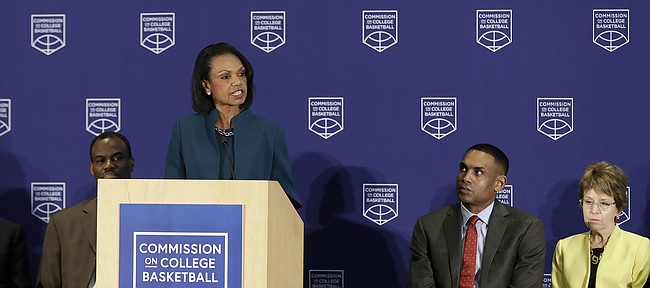 Even if you're in the camp that believes that the one-and-done college basketball system is at the root of all corruption, don't applaud the Commission on College Basketball for doing anything to accelerate its demise.
If the NBA owners and players want to let basketball players come to the league directly out of high school, the two parties will make that rule part of the collective bargaining agreement.
The CCB's threatened counterpunch should the NBA stand pat is so toothless as to be laughable.
The commission said it would reconvene and consider either making freshmen ineligible to compete or forbid schools from using a one-and-done player's scholarship until three or four years from the time the player started his career.
The first one first. How utterly absurd.
So if the NBA doesn't allow players to sign straight out of high school, which is unfair to the players and nobody else, then college won't let them play either? That would deny the NBA a year of vetting that player and a year of free marketing, but it would hurt college basketball more than the NBA. It would be the equivalent of convincing your enemy to rob a bank and driving the getaway car for him all the way to the cop shop.
Think about what a college would get out of that system: It would pay for scholarships for freshmen who don't play and the best of them would then head to the NBA with the school having gotten nothing out of paying for their schooling for a year. Coaches would clamor for an increase in scholarships so that they aren't playing with shorter benches. Gender equity rules would require women's basketball scholarships keeping pace. So the athletic budget increases quite a bit without getting anything in return, except feeling tough for hurting the NBA.
As for not being able to fill a scholarship vacated by a player leaving early for the NBA, well, all that would do is make the blue bloods more prudent about doling out scholarships to projected one-and-done players. So instead of Kentucky landing five a year, it might take one per year and the other four might go to four other schools that to this point have not fished in one-and-done waters. Maybe those schools take one every four years. It would increase parity, which I wasn't aware was one of the goals of the commission, and that's all it would accomplish.
Both potential rule changes amount to fake leverage as far as using them to twist the arm of the NBA.
As for freshman ineligibility, why should the most talented high school basketball players in the country be barred from playing by both the NBA and college basketball and why should we be barred from watching them?
I rather enjoyed watching Kevin Durant torch the Allen Fieldhouse nets, although not as much as I enjoyed Joel Embiid doing a magnificent impersonation of a blend of Hakeem Olajuwon, Bernard King and Baryshnikov along the baseline in Ames, Iowa.
I like the recommendation that players be allowed to return to school if bypassed in the NBA Draft, but even that doesn't go far enough. Why not extend it to players drafted in the second round? That might get the NBA's attention.
The CCB also called for more transparency from apparel companies. Give me a few minutes to stop laughing. Something tells me the feds might have more luck in getting the sneaker salesmen to talk, unless the CCB can hang longer prison terms over their heads than can the feds.
The commission not only attempted to reach up into the NBA's business, but also down into high school business, which drew a fast response from the National Federation of State High School Associations.
"We are concerned that 'certified agents' meeting with high school student-athletes could be disruptive to high school teams," NFHS executive director Bob Gardner said as part of a statement regarding the report. "… Another concern from the commission's report is the June evaluation period for 'scholastic' events. We would like to see what roles our member state associations and high school coaches would play in that evaluation period. Further, we still believe that limiting recruiting to the high school season would be the most effective tool in eliminating the unsavory outside influencers."
The NBA and NBA Players Association issued a joint statement that in part said: "Regarding the NBA's draft eligibility rules, the NBA and NBPA will continue to assess them in order to promote the best interests of players and the game."
Translation: We'll continue to look at this as we have been looking at it without any regard to the suggestions of outsiders who don't have our best interests in mind.
The commission's recommendations range from naive to silly to well-meaning to worth a try. Kicking the can down the road on the issue of allowing players to profit from their names, images and likenesses because there are ongoing court cases qualified as the biggest disappointment. But we'll take chair Condoleezza Rice at her word when she said she thinks it's a good idea.
I'm told by someone who spotted Rice and former President Barack Obama chatting at Barbara Bush's funeral that some believe Obama might weigh in with a statement supporting Rice and that they both want to encourage transparency, education and a college athlete's ability to make money.
The report was a start and not a particularly progressive one, but at least it was an attempt.