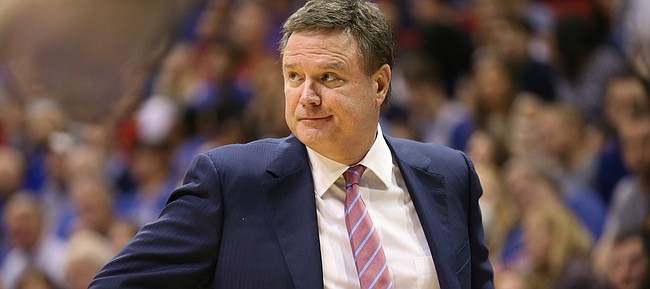 Kansas basketball coach Bill Self and athletic director Sheahon Zenger offered little in the way of specific reactions to the recommendations into fixing corruption in college basketball unveiled early Wednesday morning by The Commission on College Basketball.
But it was clear that both high-ranking KU officials were glad to see such discussion come to the forefront.
"I, like everyone else involved in our sport, looked forward to hearing the commission's recommendations on how to help college basketball," Self said in a statement. "The commission is made up of a very diverse group that is committed to the charge put to the commission by NCAA president Mark Emmert. We appreciate their time and efforts on this project. The recommendations by the commission will create further discussions and implementations that will lead to significant changes for the good of our game in the near future."
Added Zenger, in the same statement: "We appreciate the hard work done by Condoleezza Rice and her commission, and the report they produced today. The fact that the NCAA Board of Governors has already endorsed the commission's recommendations shows there is a genuine appetite for change."
How quickly that change will come and what exactly it will look like remains to be seen.
Although Rice and the commission delivered their address with the tone of wanting results sooner rather than later, Zenger cautioned that hoping for too much too fast could be a mistake.
"The work, though, has only begun," he said. "Some of these proposals can be enacted by those of us within college athletics. Some, though, will require the assistance of individuals and organizations outside of college athletics. We look forward to being part of the solution."