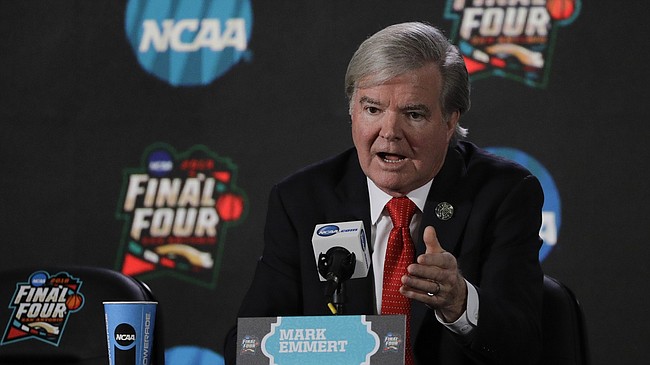 The commission charged with cleaning up college basketball has been at work for several months, and it will present its findings Wednesday to the NCAA. Before going to the trouble of rolling your eyes, let NCAA president Mark Emmert do it for you.
"I recognize everybody says this is sort of typical behavior of big organizations, right? Something goes wrong, you form a commission and then nothing happens," Emmert said at a Final Four press conference.
That was a refreshingly human vantage point and in expressing it, Emmert basically threw a challenge at the commission to make significant recommendations and to the NCAA Division I Board of Governors to implement them.
"One of the things that's different about this commission itself is that everybody that I asked to serve on it, after we talked with the board, they all said, 'Yeah, I'd love to do this, but only if you guys are serious,'" Emmert said.
The commission consists of 14 individuals, including chair Condoleezza Rice, former Secretary of State, former basketball greats Grant Hill and David Robinson and former college basketball coaches Mike Montgomery and John Thompson III.
Emmert insists the commission doesn't amount to window dressing.
"Just to be blunt about it, you don't waste Condoleezza Rice's time if you're not serious about it," Emmert said.
But how serious? Serious enough to put in a system whereby student-athletes can cash in on their likenesses and name? Serious enough to enable college athletes to endorse products the way Olympic athletes can without surrendering their amateur status?
Emmert stopped way short of saying that, instead falling back on his opinion that athletes who want to go straight from high school to the NBA should be allowed to do so. Of course, in order for that to happen NBA owners and players would need to collectively bargain that into play, removing the one year wait.
That still wouldn't address the 800-pound elephant in the room: College basketball is a billion-dollar industry and almost none of it goes to the players.
Emmert said there is "no interest in higher education of turning college athletes into employees that are hired and fired by universities."
A nice compromise then, it seems, would be to allow college athletes to get compensated over-the-table by third parties, instead of the current system in which flesh peddlers cash in on their value, sometimes without their knowledge or benefit, transactions that take place in back alleys where integrity goes to die.