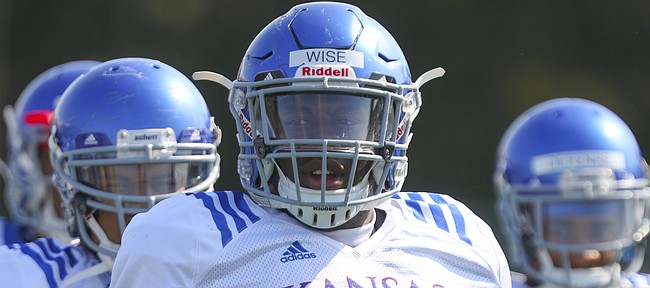 Daniel Wise considered innumerable factors this past winter while scrutinizing the benefits and drawbacks of foregoing his final college football season in order to enter the NFL Draft.
As he spoke with reporters earlier this week inside Anderson Family Football Complex for the first time since resolving to return to the University of Kansas, the 6-foot-3, 290-pound defensive tackle projected an air of contentment regarding his choice.
"Glad to be back. Wouldn't hesitate coming back for the world," a smiling Wise affirmed.
While Wise didn't provide any details on the type of feedback he received regarding his draft stock amid his deliberation, he supplied some basis for why he decided to spend 2018 at KU.
"Other than personal growth and to get stronger and wiser and all that stuff," Wise said, "I felt like something was missing. I didn't want to go out with my college career the way it went out."
The Jayhawks, of course, ended 2017 on an 11-game losing streak and failed to win a Big 12 contest for the second time in the past three years.
"Maybe I feel like I have more to give," Wise said. "So coming back, giving a little bit more to my team and hopefully coming out of college with more of a boom."
Wise proved to be one of the foremost talents on the roster as a redshirt junior, totaling 63 tackles, 16 tackles for loss, 7.0 sacks, five quarterback hurries and one forced fumble.
But when the NFL Draft begins late next week, with his former teammate and buddy Dorance Armstrong Jr. a likely mid-round pick, Wise doesn't expect to feel any regrets or think much about how his life could be different right now if he had opted to leave KU early.
"Most of the guys in my class, growing up, you play against guys all your college career, you see them in the draft it's pretty cool. But I"m not really focused on that right now," Wise said. "I'm focused on the team and spring ball and getting the team turned around."
In fact, when asked to identify personal goals for the coming year, Wise maintained to be less interested in what he can do to improve his chances of making it in the NFL, saying he had more team goals than individual aspirations.
"We want to win," Wise said, before knocking on the table in front of him while completing his thought. "Hopefully end it with a better senior year."