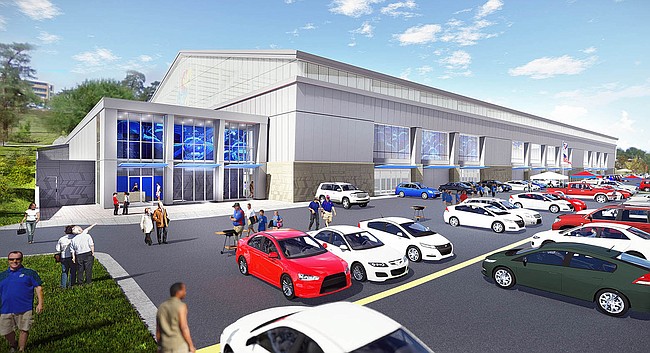 Construction work is underway on the new $26 million indoor practice facility for the University of Kansas football team, with the project expected to be completed before the end of the year.
KU Director of Facilities Planning and Development Mark Reiske provided an update on the project to the Lawrence City Commission at its meeting Tuesday night. Reiske said that construction teams started mobilizing this week and that some fencing was going up. He said utility locator services have begun, with excavation and construction to follow in the next couple of weeks. The premanufactured metal building will be brought to the site in large segments, he said.
KU previously told the Journal-World that excavation for the facility, which will be built west of Memorial Stadium, will require that around 80,000 to 90,000 cubic yards of dirt be hauled off the site. Reiske provided to the commission routes for the project, which he said would be used first to haul the soil away and then to bring the building segments and other materials to the site. He said residents of surrounding neighborhoods have been notified of the project schedule and the truck routes.
Reiske said for most of the project, trucks will use Fambrough Drive, Mississippi Street, Ninth Street and Iowa Street. At some point, he said the upcoming Fambrough Drive and West 11th Street realignment project will require trucks to use Maine Street in lieu of Mississippi Street.
Commissioner Jennifer Ananda asked Reiske about potentially displacing student parking in the neighborhoods, as the project will eliminate some spaces. Reiske said that even on KU's heaviest class schedule day, the lots affected don't fill. He said the plan is to add back parking west of the indoor practice facility, or higher up the hill, at a later time but that right now that is not part of the budget.
The 89,000-square-foot indoor facility is scheduled to be completed in late fall, according to a news release from KU. Athletic Director Sheahon Zenger said in the release that the state-of-the-art facility is necessary to enable KU's football program to compete successfully in the Big 12 Conference.