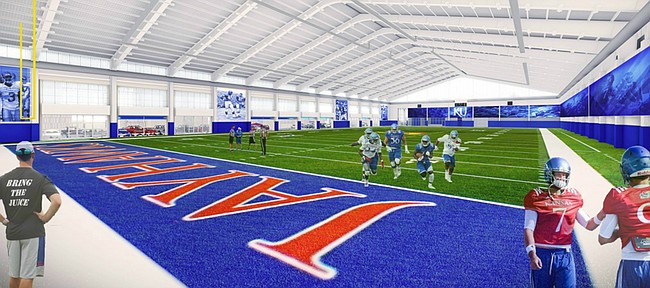 Kansas football coach David Beaty says he's parking a little farther away from Anderson Family Football Complex these days.
Spots near the program's home base aren't nearly as plentiful now that lot No. 59 west of David Booth Kansas Memorial Stadium is closed, with construction teams mobilizing this week to build KU's new indoor practice facility.
"That's a good thing," Beaty said of the minor inconvenience.
The new indoor facility is considered an essential first-phase component of the athletic department's "Raise The Chant" campaign, focused primarily on upgrades for the ever-struggling program.
Podcast episode
Kansas football coach David Beaty discussed changing the format of the spring game to a practice, standouts on both sides of the ball throughout the spring and whether he tries to name starters before the end of spring practices.
"We've done a tremendous amount of benchmarking and thorough preparation since we announced this project last fall," KU athletics director Sheahon Zenger stated in a release. "It is extremely rewarding — to us and to our fans — to see construction fences up and shovels in the ground. This state-of-the-art facility is a necessary component of our commitment to enable our football program to compete successfully in the Big 12 Conference."
A new indoor facility, redshirt junior Carter Stanley said, was something Beaty told him was on the horizon before the quarterback signed with KU, in 2015.
"And he's definitely lived up to his word," Stanley said. "I'm really excited to see it go in. I think it's supposed to be ready late fall or early winter next year, so I think it'll be really cool. Anschutz (Pavilion, an indoor practice facility located west of Allen Fieldhouse and currently shared by the university's football and track programs), that's not bad. We definitely get some work done there. But it's going to be nice to have one here at our own facility."
According to KU, the new football building is scheduled for completion in late fall this year.
"Not only does the indoor football facility put us one step closer to completing the needs of the program," Zenger said, "it will also provide an entertainment space for donors, alumni and fans on gameday."
Future phases of the "Raise The Chant" campaign involve extensive renovations to David Booth Kansas Memorial Stadium, including a variety of premium seating options at all price points and enhanced fan amenities, such as suites, lounges, reserved chair-back seating, concourse viewing decks, expanded concourses and premium concession options.