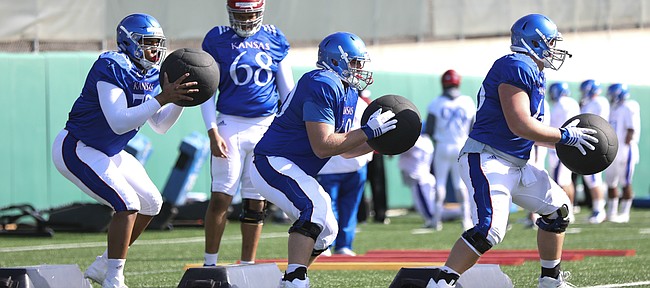 Kansas football coach David Beaty opened his press conference Wednesday afternoon by offering the program's fans a further explanation on the decision to replace this year's spring game with an open practice.
Beaty emphasized he would prefer the Jayhawks play a full scrimmage on April 28 at David Booth Kansas Memorial Stadium.
"I think it's valuable for our players," he said of a traditional format, "and it's valuable for our fans to be able to see it. Just we're down to eight available offensive linemen right now."
The current KU roster lists 16 players as O-linemen, but one of those is Charles Baldwin, who no longer participates with the team in any capacity. Elsewhere up front, junior tackle Hakeem Adeniji is still in the rehab portion of his off-season, following a pair of shoulder surgeries.
Podcast episode
Kansas football coach David Beaty discussed changing the format of the spring game to a practice, standouts on both sides of the ball throughout the spring and whether he tries to name starters before the end of spring practices.
Without going into full details, Beaty revealed KU has four offensive linemen out for the remainder of spring activities due to various surgeries, while others such as senior Jacob Bragg, juniors Andru Tovi, Hunter Saulsbury and Antione Frazier, and true freshman Nick Williams are "battling through" some less serious ailments.
While projecting the depth situation along the O-line will be "OK" by the time the Jayhawks head into pre-season camp months from now, Beaty deemed the numbers too thin right now to play a spring game.
"So we have about eight guys to get us through, and it's difficult to play a game when you're there," Beaty said. "And we still have five practices left to go."
Other offensive linemen currently on the roster are: senior Larry Hughes, juniors Beau Lawrence and Clyde McCauley III, sophomores Earl Bostick Jr., Malik Clark, Chris Hughes and Cam Durley, and redshirt freshmen Joey Gilbertson and Jack Williams.
Offensive linemen recruits who will join the program in the summer include: junior college transfer Reuben Lewis and true freshmen Jacobi Lott, Mac Copeland, Jack Murphy and Spencer Roe.
While punting on the concept of a spring game this year isn't ideal, senior defensive lineman Daniel Wise said the players understand.
"I think it's what's best for the team," Wise said. "Like Coach Beaty said, the whole offensive line is not at its best. But we're doing what's going to help the team."
The fourth-year KU coach said his staff and players will "do what they have to do," even under less-than-perfect circumstances as fans watch from the stands on the last Saturday of the month.
"And we're still going to get a lot out of that day," Beaty added, "which is important for our guys."