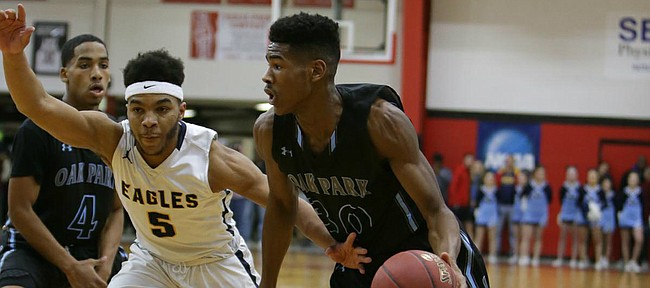 When soon-to-be KU freshman Ochai Agbaji was entering his junior year at Oak Park High in Kansas City, Mo., he stumbled upon some sort of recruiting web site and saw something he did not like.
"Some web site had me ranked 11th in the state," Agbaji told the Journal-World on Tuesday. "And I was like, 'OK. But I think I'm better than all these people above me.' But it didn't really get to me. I just kept playing my game and kept getting better."
The plan worked. In a big way.
Earlier this week, Agbaji — pronounced Och-Eye Uh-Bah-Gee — saw his ranking on the Rivals.com database sky-rocket, from unranked to landing in the Rivals 150 at No. 141 overall.
The web site, which had nothing but dashes next to Agbaji's name throughout his senior season, now lists the future Jayhawk as the 39th best shooting guard in the country and one of the Top 150 players in the 2018 recruiting class.
"Just to see that, from unranked to No. 141 or something like that, that was kind of crazy," Agbaji said.
Although rankings and such have never meant much to Agbaji, he did admit that it was "an honor" to receive this latest recognition from one of the top players in the recruiting industry.
"It is kind of cool to see all my hard work pay off," he said. "But I don't really worry about that. Not too much. It doesn't really mean anything, whoever's ranked above me or below me, doesn't really matter to me. When I was getting into high school, I would see all those rankings and stuff and just seeing that I'm a part of that right now, with a bunch of other good players, is pretty cool."
Last week, Agbaji made his commitment to KU official by signing and sending his national letter of intent to the Kansas basketball offices. In the days since, the 6-foot-4, 200-pound shooting guard who was considered by many to be the best player in the Kansas City area by the time his senior season ended, has become much more of a household name.
Last Thursday, Agbaji backed up that claim by becoming the male recipient of this year's DiRenna Award, given annually to the top player in Kansas City by the Greater Kansas City Basketball Coaches Association. And, one night later, Agbaji represented Oak Park High one final time at the GKCBCA All-Star game.
"I've definitely received a lot more attention from everywhere," he said of the impact of him becoming a Jayhawk. "All kinds of people are still congratulating me and it feels way more official, obviously. But I'm just ready to get on campus and start working."
Agbaji's final day of school is set for May 4 and graduation is scheduled for May 11. After that, he'll continue to work out with a variety of trainers while counting down the days until he can report to Lawrence for his first day as a KU basketball player on June 1.
As for what specific aspects of his game Agbaji will be working on between now and then, the versatile guard with pointed to two areas as his main focus.
"Just improving my ball-handling and then just being a more consistent shooter," he said. "That'll always help the team."
Two of the other three prospects signed by Kansas in the 2018 class — combo guard Quentin Grimes and center David McCormack — moved up, with Grimes jumping two spots from No. 10 to No. 8 and McCormack moving up one spot to No. 33.
Point guard Devon Dotson was the only future Jayhawk in the 2018 class — for now — who dropped in the updated rankings, falling one spot from No. 17 to No. 18.
Dotson, Grimes and McCormack all played in last month's McDonald's All-American Game, while Grimes and McCormack followed that up by playing in the Nike Hoop Summit game for Team USA.