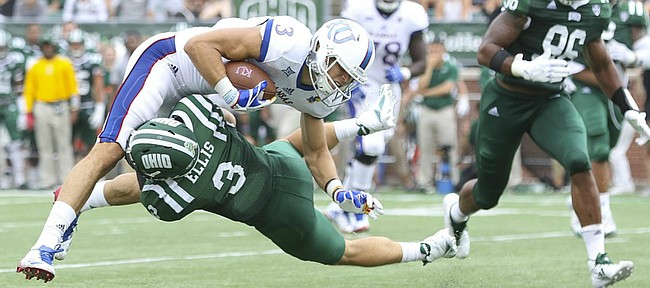 Chase Harrell plans to keep playing football, but he's done doing so at Kansas.
A difficult off-season for the receiver that included witnessing his older brother, Cole, murdered this past December, and an arrest on suspicion of DUI in March, led to Harrell deciding to move on and the program granting him a release.
The 6-foot-4, 228 pound native of Huffman, Texas, announced his decision via Twitter on Friday evening.
"With everything I have been through this past six months, I'm looking for a fresh start and have decided to transfer from KU and play my final two years at another D-I university," Harrell posted in a note.
Harrell, who first arrived at KU in the spring of 2015, and would have been a redshirt junior with the Jayhawks this coming fall, detailed his plans to graduate this coming summer and move on.
He also thanked teammates and coaches in the the social media post.
"This has nothing to do with the KU program," Harrell wrote."This is just something I need to do for myself to truly start fresh and refocus."
Just more than a week ago, KU head coach David Beaty stated Harrell wasn't practicing with the team this spring, but expressed he wanted the best for the receiver's wellbeing.
In what proved to be his final season at Kansas, Harrell played in all 12 games in 2017. He caught 25 passes for 221 yards and three touchdowns.
"I just want to honor my brother Cole on the football field every time I step on it," Harrell added on his farewell message, "and I feel the best way to do that is with a fresh start and new beginning."