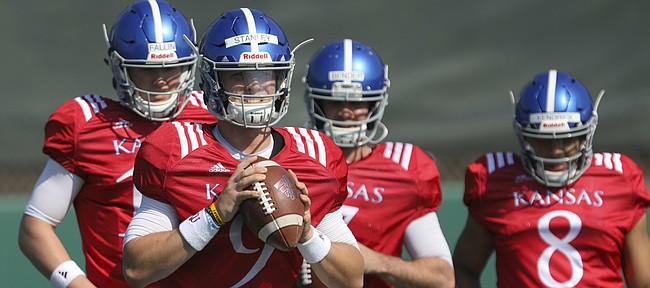 Whether it was Peyton Bender or Carter Stanley playing quarterback for Kansas this past season, more often than not passing plays failed to produce their desired results.
Sometimes a QB was at fault. On other occasions, botched assignments elsewhere, or even everywhere, contributed to the tame to paltry outcomes.
Whatever the factors, off-season QB improvements — or perhaps naming a different starter entirely — will be essential to putting a more adequate KU offense on the field this coming fall.
Bender (eight starts in 2017) and Stanley (four starts) combined to complete 249 passes on 459 attempts (54.2 percent), for 226.4 yards per game, totaling 14 touchdowns and 17 interceptions between them. Neither did enough individually to enter spring football as a clear-cut starter. It could very well be months before head coach David Beaty and offensive coordinator Doug Meacham decide upon one of the incumbents or newcomer Miles Kendrick as KU's No. 1 quarterback.
Approaching the halfway mark of the spring practice schedule, Beaty at least reports witnessing some noteworthy and "clear differences" out of both Bender, a senior entering his fifth and final year of college football, and Stanley, a redshirt junior.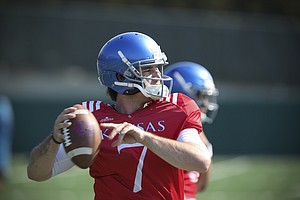 "I think as you go through your years, you, I think, for the most part, you see improvements in certain areas, but you start seeing that maturity, that maturity of understanding that that clock is ticking," Beaty said. "And when that clock is ticking, you start kind of getting a little bit more of a reality of the fact that there's certain things that have to become more important to you, and understanding how to be even more of a student of the game, I think, is something that I've seen and witnessed both those guys do well."
The fourth-year KU coach credits both Kendrick, a sophomore transfer who just arrived this semester, and Miles Fallin, a redshirt freshman walk-on, for stimulating the study habits within the quarterbacks room, calling them "natural" students of the game.
"It's one of those deals where it's kind of almost a peer pressure deal, where you see a guy out-working you. If you're a competitor, you're not going to let that happen," Beaty related of the invigorated preparation habits. "And these guys are competitors, so I've definitely seen improvement there."
Stanley, who as a sophomore completed 54.6 percent of his 185 throws, with four touchdowns and seven picks, identified fundamentals and technique as some focus areas this off-season.
"When I look back and see that maybe I missed a throw, a lot of it just came down to maybe just my footwork or just maybe not making the right read," Stanley shared. "So I've spent a lot of time this winter in the film room. Coaches have done a great job of helping us out with that. So it was just fundamentals and learning structure."
In 2017, his debut season at KU, Bender connected on 54.2 percent of his 273 passes, with 10 TDs and 10 interceptions. He said the three-man race for the starting job has been good for all involved this spring.
"Anytime you can compete I always say it makes you better as a player, it makes the team better ultimately, overall," Bender said. "All of the guys have looked real good."
An under-the-radar junior college QB at College of San Mateo (Calif.), Kendrick finished with 1,889 passing yards, 18 touchdowns and nine interceptions, as well as 417 rushing yards and five touchdown carries, while starting nine games and appearing in 11.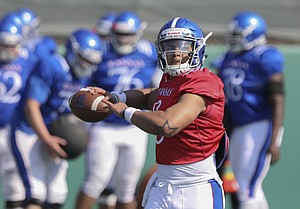 The 5-foot-10, dual-threat QB may be new to the KU roster, but it shouldn't be impossible for Kendrick to catch up with Bender and Stanley in the race to become the starter, or even to beat them out at some point between now and the season opener against Nicholls State.
"Well, he's doing the things that you would need to do to be able to do that," Beaty responded, when asked if Kendrick could emerge from the competition on top. "Now it's a matter of whether he can produce or not. The production is what we have to see. We've got to be able to see the production on the field, and he's still so new with us, I mean, we're still only six (practices in)," Beaty said during his Wednesday press conference. "We haven't seen just a whole lot more, but you can see him really becoming familiar with it, because he puts a lot of time into it."
The only certainty with the QB competition at this juncture appears to be that it won't be decided anytime soon.
"Listen, I wouldn't put it past any of those guys to be the guy that could take the reins," Beaty said, "and that's the good thing is that I think we've got guys that are committed to really wanting that spot, which is good. Kendrick is certainly a guy that's going to work for it."