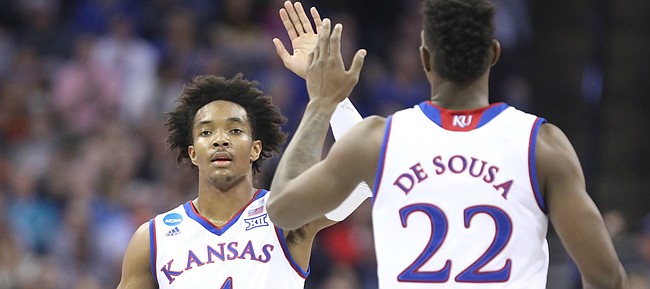 The Kansas athletic department finds itself in an interesting pickle, having negotiated a 14-year, $191 million sponsorship and apparel agreement scheduled to go into effect July 1, 2019.
The deal hasn't been signed, which is interesting, because the crimson trim of the blue Adidas uniforms mirrors the face of the athletic department at the moment.
From what has been reported so far, no evidence exists that anybody from KU Athletics was connected to payments allegedly made from Adidas to guardians of two members of this past season's Final Four basketball team. But remember, Adidas is a partner to Kansas.
The partnership was formed in 2005.
Let's assume, for the sake of posing a question, that nobody at Kansas from the coaching staff to the administration to the cookie vendor had even an inkling that Adidas was greasing palms to steer players to Lawrence.
Given that scenario, should Kansas be grateful to Adidas for allegedly delivering a player without whom the Jayhawks probably would not have made it to the Final Four, or should Kansas be furious at a shoe-company executive for dragging its name into a dirty play-for-pay scheme?
If the answer is the latter, then shouldn't KU Athletics be looking to run as fast as it can in the other direction from Adidas, even if it means running barefoot until a deal with a company with a cleaner reputation can be negotiated? Like, say, Big Baller Brand, for instance?
The other option for KUAC, one that never would be challenged by its devoted fan base, would be to embrace that the Adidas executive in question went rogue, which enables Kansas to stay with the highest bidder. In other words, make it about principal and interest, not about principle.
This represents a defining choice for the university, one that ultimately will land on chancellor Douglas Girod's desk. Again, the choice is a simple one: Go to the highest bidder or to the bidder with the highest principles, if indeed such a bidder exists.
Typically, when high-powered athletic departments find themselves embroiled in or on the edges of scandal, they dig in, wait for outside forces to make allegations, follow instructions of attorneys, make a statement here or there, wait for the final verdict, dust themselves off and move on. That goes for class credits for classes that don't exist, impermissible benefits, bribing shoe salesmen, etc.
Then again, you never know when an intolerant leader might come along and say enough is enough. Not on my watch.