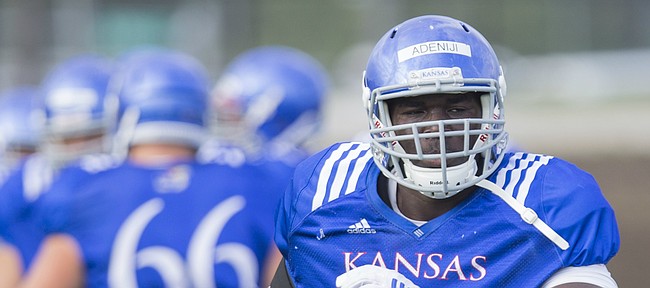 Over the course of his first two seasons at the University of Kansas, Hakeem Adeniji hasn't missed a start yet.
If the offensive lineman's off-season recovery from a pair of shoulder surgeries is any indication that streak won't end anytime soon.
The 6-foot-4, 300-pound left tackle can't yet fully participate in practices, and Adeniji won't be asked to do so until pre-season camp rolls around late this summer. Still, KU head coach David Beaty described the first-string tackle's progress as "ahead of schedule."
Adeniji played with a torn labrum in one shoulder the first four games of his sophomore season, then suffered mirror trauma on the opposite side of his body during the team's fifth contest. He played through both injuries, though, putting off surgeries until the relative football break between the end of the 2017 season and the start of the spring semester.
"He had an interesting Christmas break. He had to have a lot of help getting dressed," Beaty related, "and just doing daily activities, as you can imagine, were fairly difficult for him. But he's a professional. He's a guy that conducts himself that way. If you were walking down the hall, you wouldn't know he was hurt, which is good."
Though Adeniji is limited significantly during spring practices, while going through all the appropriate rehab steps for his shoulders, Beaty said the most experienced O-lineman in the program isn't just watching from the sidelines. KU's fourth-year head coach said Adeniji does "quite a bit," emphasizing periods of activity are contact-free and mostly to benefit the muscle memory of Adeniji and any other player currently incapable of handling a full work load.
"But his range of motion looks really, really good. I think he's going to make a great recovery," Beaty predicted. "Those guys did a great job repairing him."
The timetable for Adeniji's full recuperation isn't exactly concrete, but Beaty expects the key member of the O-line to be fully cleared early this summer. Adeniji's coach reported the left tackle told him both shoulders now feel "about the same," even though the surgeries came about a month apart.
"But we'll see. We'll see how it goes," Beaty added of the process. "The good news is we know he's not going through spring, so we know we've got to get him well as fast as we can to get him through a good off-season in the summer, as much as we can get, so he can be physical when we get to fall camp."
Tabor remains sidelined
Another potential key contributor for KU's offense, tight end Kenyon Tabor, hasn't yet experienced the physical upturn he hoped for this off-season.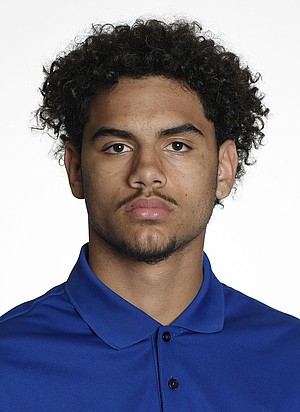 Tabor, who has dealt with what Beaty described as an "excruciating" back problem since the summer of 2017, missed all of his first pre-season camp at KU and the ensuing 12-game schedule as a result. Unfortunately for the passing target from Derby, who received a redshirt as a result, Beaty reported not much has changed for Tabor, listed at 6-4, 215 pounds, in that regard.
"The back is different. It's just different. And we haven't seen the progress that we need to see," Beaty said. "He was getting a little bit better, and then it went right back to where it was. But, man, I love the kid, and my heart is broken for him."
KU's coach said the program has sought out experts from "all over the country to try to find the next person to try to help" Tabor, and categorized the redshirt freshman who was a three-star, in-state high school signee as one of the best players the program has recruited since Beaty's arrival.
"And not having him is NOT good. We need that guy," Beaty stressed. "I mean, he's already — I bet he's 230 pounds right now, and he hasn't even done anything. I mean, he's going to be a monster, right. But we'll see how that comes out. I mean, I'm not sure."
Beaty first identified junior James Sosinski, of KU basketball walk-on fame, and Florida State graduate transfer Mavin Saunders when asked which tight ends are in the mix to contribute. He also referenced senior Hudson Hall and junior Caperton Humphrey — both listed at fullback — as players capable of carrying out tight-end-related roles.