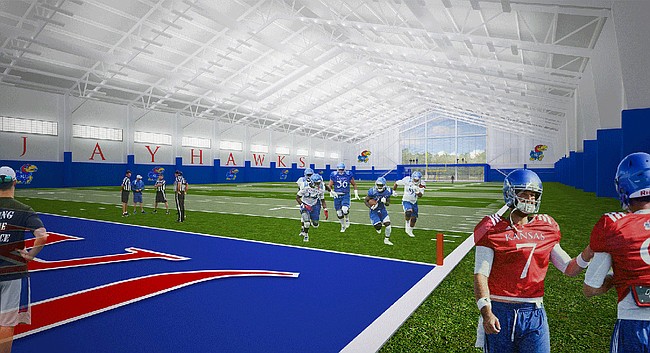 Work on the new multimillion-dollar indoor practice facility for the University of Kansas football team will begin soon.
KU spokeswoman Erinn Barcomb-Peterson said the contractor would be on site next week to begin the project.
In November, the Kansas Board of Regents gave the university authority to build the $26 million indoor practice facility. The facility is just one part of an overall $300 million renovation project that KU has planned for Memorial Stadium, a project expected to be funded entirely with private donations.
Barcomb-Peterson said the new practice facility would be built on the west side of the stadium, northwest of the Anderson Family Football Complex. The build site covers a portion of the parking lot directly west of the stadium and what is currently open space, according to a site diagram.
Barcomb-Peterson said the project would require around 80,000 to 90,000 cubic yards of dirt to be hauled off the site, and that hauling should begin in one to two weeks and conclude by July, weather permitting. She said some of the dirt would be used for the upcoming Fambrough Drive and West 11th Street realignment project.
The stadium is on the northern edge of KU's campus, bordered by the Oread and West Hills neighborhoods, and a Community Advisory Committee was created earlier this year to provide input on the facility's design and construction process.
The Lawrence City Commission will get an update on the practice facility project soon. City Manager Tom Markus told commissioners at their meeting this week that on April 17 KU would present a summary of the project, including a traffic control plan, neighborhood notification plan and summary of the advisory committee's work.