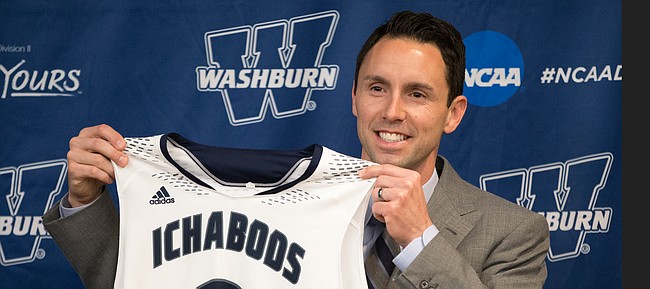 Talk about making a splash.
First-year Washburn Ichabods basketball coach Brett Ballard, a former KU player under Roy Williams and assistant under Bill Self, has been named the Kansas Basketball Coaches Association College Four-Year Men's College Coach of the Year as announced by the organization.
Ballard led the Ichabods to a 22-10 record in the MIAA, a conference tournament finals appearance and an NCAA Tournament berth in his first season on the Washburn sidelines. Washburn, a No. 7 seed, lost in the first round while making its 13th appearance in the NCAA Tournament all-time and first since 2012.
The Ichabods finished third in the MIAA regular season race.
It marked the fourth time an Ichabod head coach has received the award as former coach Bob Chipman, whom Ballard replaced, won the award following the 1987, 1994 and 2001 seasons.
Ballard was named the Washburn Ichabod men's basketball head coach on April 6, 2017 after spending three seasons as an assistant coach with the Wake Forest basketball program after working under head coach Danny Manning for five combined seasons overall including two seasons at the University of Tulsa.