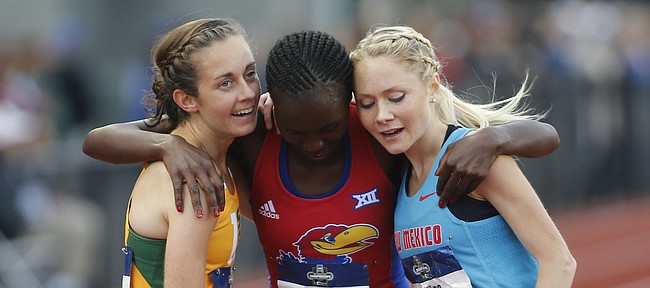 Suspenseful college quadrangular meets that have been known to come down to the final race have softened the blow of the Kansas Relays no longer attracting big-name professional athletes to the event.
This year's meet (April 18-21) promises to bring more of the same, thanks to competitive fields in the men's and women's quadrangular events.
It also features Big 12 rivals, former and current, to add spice to the event and keep those in the stands at Rock Chark Park following the updates of team scores after each event.
All four schools' women's track and field programs are ranked in the top 50 in the national coaches' poll: Kansas State 10, Nebraska 25, Kansas 29 and Harvard 42.
The men's competition very well could come down to the last race early Saturday evening, the 4X400-meter relay, with Kansas and Nebraska battling to the finish line.
KU is ranked 12th in the men's poll, Nebraska 14th. K-State and Harvard are not in the top 50.
"The meets have been great, really close," KU Relays director Milan Donley said. "There were a couple of years where it came down to the 4X4 to determine the champions."
The women's quad a year ago was decided by final race when Minnesota edged Kansas. In 2016, Nebraska's men defeated KU by a slim margin.
Since the start of the quad format in 2015, Kansas has finished first, second and first. The women have placed first, second and second (to Nebraska in 2016).
If the fans don't recognize the names of the athletes, the colors of the singlets will let them know where their rooting loyalties lie.
It's an enjoyable experience for spectators because the team scores are so close, but it's not as if the athletes and coaches lose sleep over those standings. Otherwise, they would make sure to stock races with their top athletes, instead of in some cases holding them from competing for training purposes.
For example, KU distance runner Sharon Lokedi, a six-time first-team All-American (twice in outdoor 10,000, twice in indoor 5,000, once in indoor 10,000, once in cross country), will enter one race at the KU Relays. The weather will determine whether that's the open 5,000-meter run on Thursday or the quadrangular 5,000 on Friday.
The quads start Wednesday with decathlon and heptathlon events that spill into Friday. College open events start Thursday and continue through Saturday. High school events
are Friday and Saturday and the quads conclude Saturday with the 4X400 relays, the men's scheduled for 5:22 p.m., the women's 5:27 p.m.