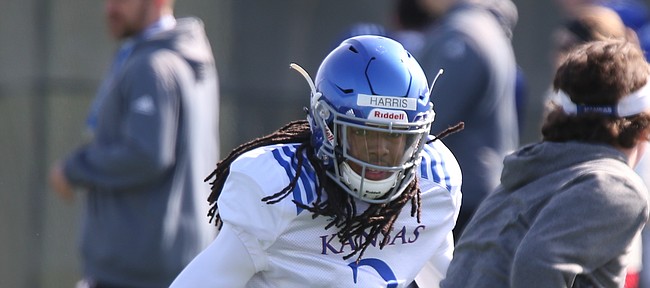 Sure, the rest of the Kansas football team knew the name Corione Harris long before the four-star cornerback from Louisiana enrolled in classes and joined the program in January.
But it was on the final Wednesday of March, at Harris' first college practice, when the Jayhawks finally received a proper introduction.
During one particular period, KU's quarterbacks threw hitch after hitch to their targets. It didn't take long for Harris to squat on the routes — or for the QBs to notice the freshman corner's tactic.
The offense countered with a go route, and when senior Peyton Bender released a deep ball Harris appeared to be on the wrong end of a welcome-to-college initiation.
Except the 6-foot-1, 180-pound gem of KU football's 2018 recruiting class found his bearings, caught up with the receiver who had just beat him near the line of scrimmage and picked Bender's pass out of the air.
"He ran right with the guy and made a nice play on it," Bender recounted.
The same first impression stuck with redshirt junior QB Carter Stanley, too, when asked what jumped out most about the Jayhawks' shiny new defensive back, who graduated from Landry-Walker High, in New Orleans, early in order to join KU's ranks months ahead of most freshmen.
"He seems like the real deal," Stanley said.
Fourth-year KU coach David Beaty warns the team remains in the early installation stages of spring, and he wants to see how Harris handles what's yet to come. Still, Beaty admitted he enjoys watching the long-armed, speedy corner from Marrero, La., make the types of plays for which the staff recruited him. What's more, Harris, by all accounts, has the mentality needed to survive as a defensive back in the Big 12.
"Corione, I think the thing that Corione brings to the table that I like the most is he's got some dog in him," Beaty said. "He's a corner, and he's got some dog in him. He likes to hit you just as much as he likes to cover you, and he's athletic as all get out. The kid's got some ability that a lot of them don't have, where he can make a fundamental mistake and his speed and his quickness allows him to make up for it."
The first thing Bender noticed about Harris was his speed, for sure. But the freshman that associate head coach Tony Hull helped bring to KU from "The Boot" has done much more in the practices that followed his debut and jaw-dropping interception.
"He also just brings a lot of energy to practice. He's a real enthusiastic player," Bender shared, "so that always makes it fun. He brings positive energy."
Sophomore Kansas QB Miles Kendrick joined the program at the same time as Harris, and lauded the young corner's passion for the game, as well as his work ethic. Those qualities also shape what Harris is capable of when a pass heads his way.
Kendrick has thrown in the direction of the highest-rated recruit from KU's incoming class enough to provide a detailed scouting report.
"He's long. But despite being long and lanky, he is very quick," Kendrick attested. "Plays the ball really well, is really aggressive. Doesn't shy away from contact. He's just a football player, even though people may think he's undersized right now. He's still young. He still has a long time to grow and a long time to play. His feel for the game, his abilities, they're all there. Elite ability. Elite play-making, ball skills, everything."
As excited as Harris' teammates seem about his potential, Beaty, for now, is holding off on assessing what the touted freshman could mean for the Jayhawks' in-season product this coming fall.
"Now it's so early, it's so hard to tell," Beaty said, "but the very first day you could tell something was different about that guy. You could tell."