For the first four months of his football off-season, Kansas tight end James Sosinski experienced what he described as almost no football-related activities.
Preoccupied from December through March with his role as a walk-on with KU basketball, Sosinski didn't appear too rusty upon his April return to the gridiron, though.
Three days after getting back to Lawrence from a trip to San Antonio and the Final Four, Sosinski rejoined KU football for spring practices this past week.
"He caught a ball down the seam, and a couple guys bounced off of him," coach David Beaty described of Sosinski's homecoming of sorts. "He's got some extra weight on him now. He looks good."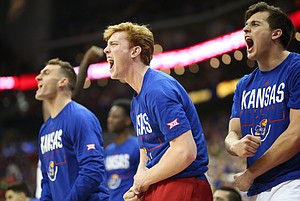 The 6-foot-7, 260-pound tight end who appeared in just six basketball games, playing eight total minutes of mop-up duty, only missed three of KU football's 15 spring practices due to the Jayhawks' March Madness run.
According to the scholarship football player, he spent far more time on the basketball court than football turf these past four months, despite his limited role with the perennial hardwood champs of the Big 12.
"Little stuff here and there," the junior passing target reported of his football pursuits once he joined the basketball program. "I ran some routes at our indoor facility with some of our quarterbacks on some of our off days, but nothing too serious."
Thus far, Sosinski, who transferred to KU from South Mountain Community College (Ariz.), where he played basketball but not football, has represented the Jayhawks more in a basketball capacity. His next appearance in a Kansas football game will be his first.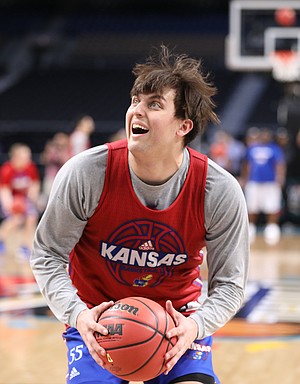 Still, it seems he could fill a larger role for Beaty's program this coming fall, now that former tight end Ben Johnson has graduated and completed his eligibility. Redshirt freshman Kenyon Tabor and graduate transfer Mavin Saunders, from Florida State, are the only other tight ends on KU's current roster.
Redshirt senior linebacker Joe Dineen enjoyed watching Sosinski's basketball exploits from afar. Once the two-sport Jayhawk turned his attentions back to football, Dineen appreciated what he saw out of Sosinski even more, sharing the tight end made "two pretty big catches" in his spring debut.
"He's a great athlete and I think he's gonna help us a lot on the football field," Dineen said. "And it was good to finally see him again."
KU quarterbacks hit Sosinski for a completion twice on his first day back, and Beaty said the big target from Chandler, Ariz., didn't get tackled on either.
"People fell off of him," the fourth-year KU coach related. "So we're obviously really excited to have him back with us."
Although Sosinski played sparingly for KU basketball, Beaty shared his plans to have the end-of-the-bench power forward speak to his football peers about the experience, in order to impart what he learned during his time playing for Bill Self, "because he lived in it."
Said Beaty: "I think that's going to be very valuable for us."