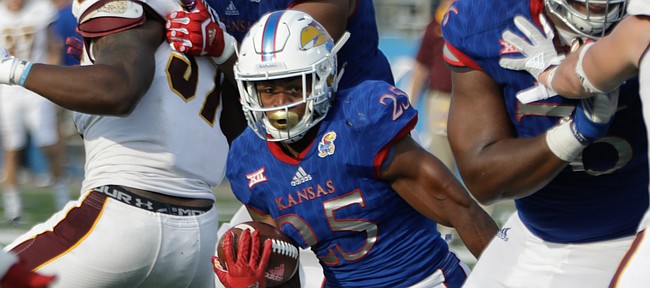 A smorgasbord of excuses for a so-so freshman season lies well within reach for running back Dom Williams should he choose to go there.
Kansas has had a substandard offensive line and passing game for several years in a row. When the defense loads the box, what's a running back supposed to do?
He injured his shoulder, missing time in the middle of the season.
Kansas took a pass-heavy approach, leaving little chance for running backs to find a rhythm and gain momentum.
Each point has merit, but you won't hear Williams rationalizing a freshman year that was more challenging than he anticipated, because that would be counterproductive to his goal of improving.
It's not that he played poorly. He just didn't have the impact that it looked as if he would have after producing 106 yards of offense (64 in rushing yards, 42 in receptions) in a Week 2 loss to Central Michigan at home.
Williams finished the season as the team's third-leading rusher (176 yards, ranking behind Khalil Herbert and Taylor Martin) and had the second-best yards per carry (3.5) to Herbert (5.5) among KU's running backs.
"I feel like it's hard playing as a freshman, just being able to learn the playbook, just tough adjusting to everything as a freshman," Williams said.
As a result, the 10th leading career rusher in Texas high school history watched more than he played.
"It was a good learning experience to be able to sit back in the season and watch other players run," Williams said.
As is the case with most freshmen in all sports, Williams wasn't as ready for the big-time coming out of Independence High in Frisco as he figured after earning a four-star Rivals ranking and being ranked as the nation's 17th-best running back in the Class of 2017.
"I think watching Dom develop just over these first four practices, you can see a definite difference in his football IQ," fourth-year Kansas coach David Beaty said last week at a press conference.
The first step toward bringing about that change came with Williams recognizing there was more to college football than he anticipated.
"Kind of just taking it more seriously, having hard work and dedication to wanting to learn the offense," he said. "I want to be able to make a difference, so I had to be able to know more of the fronts and linebackers and just learn the defense and the offense."
He said he also has gained 10 pounds, which will come in handy in weathering the pounding running backs take from bigger, stronger, faster athletes than they faced in high school.
Williams has a chance to develop into as productive a recruit as assistant coach Kenny Perry has landed at Kansas. He committed to KU in September of his junior season and stayed true to his word after receiving scholarship offers from Arizona State, Purdue, Baylor and several others.
"Baylor was late (with a scholarship offer), right before signing day," Williams said. "I just wanted to stay loyal, staying with Kansas for two years. I felt like this was the place for me."
He said he still feels that way and is eager to show why the Kansas staff was excited to get his signature on a letter of intent.