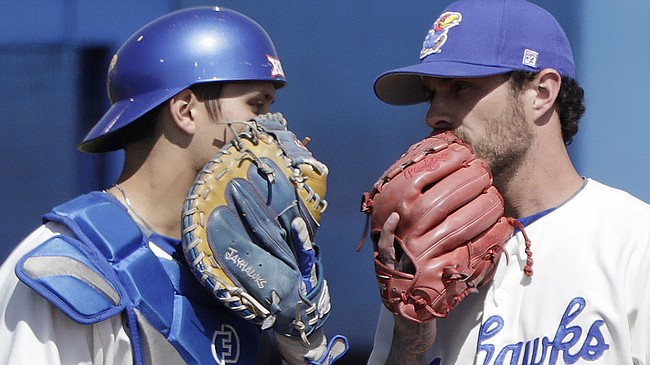 The tone of the day was set in the first inning.
No, it wasn't the score that told the story — at least, at that point — but, rather, the opportunities the Jayhawks had already let slip away.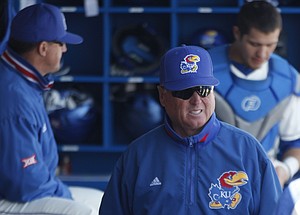 "We needed a great start today and we didn't get it," said KU coach Ritch Price. "We've been buried two days in a row by the third inning."
With a chance to retire one of the Big 12 best hitters, left-hander Taylor Turski wasn't able to get a called strike three down in the zone. After a walk and then a strikeout on a wild pitch, the Red Raiders had two in scoring position with two down.
One swing of the bat later, they'd grabbed control of the game en route to a 10-0 win.
"I mean, I think the only thing biting me was the umpire," said Turski. "I was working for those low strikes and I wasn't getting them. I'd get them early in the count and then late in the count, I wasn't getting them. It was a little frustrating."
Those frustrations weren't limited to the first inning.
Turski, who could've worked his way through 16 pitches on the inning, finished the frame with 28. He returned to the second and nearly got his first out on a liner from Cody Farhat, but the ball snuck over the glove of second baseman James Cosentino.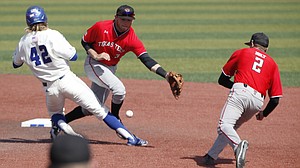 Tech (26-6, 5-3 Big 12) tabbed three more runs in the inning, raising Turski's pitch count to 56.
"They're a really good hitting team," Turski said. "They're scrappy. They find holes. That's what a good hitting team does."

In his last start, Turski tabbed a career-best eight innings (129 pitches), allowing three runs on five hits while striking out seven. Turski crossed the halfway mark to that pitch count in the third inning and didn't last much longer, giving up a solo home run, ground-rule double and then a two-out RBI single in his final frame.
Turski (1-5) allowed seven runs on nine hits to the Red Raiders.
"They're as good as advertised," Price said. "We haven't been close enough to use our two top relievers. The only good thing I can say about (the game) is we've got our three best arms pitching tomorrow."
Offensively — on a day set aside to recognize the 25th anniversary of the 1993 KU baseball team that advanced to the College World Series — there were no silver linings to be found.
Jaxx Groshans had the chance to give the Jayhawks (17-13, 2-6 Big 12) their first hit with two down in the first inning. He lined a shot to left but was robbed by a diving catch from Grant Little. Groshans tipped his helmet at Little as he returned to the KU dugout.
One inning later, after Brett Vosik singled to lead off the inning, Tech pitcher Caleb Kilian struck out the next three Jayhawks, including Devin Foyle, who lost his nine-game hitting streak with an 0-for-3 outing.
KU put a runner in scoring position in the third inning after Rudy Karre successfully disrupted the Red Raiders infield with a slide into second — he advanced from first to third as the ball trickled into the outfield — but Groshans struck out swinging to end the inning.
"We had chances. We had guys in scoring position," said Price. "Their guy made big pitches and we were undisciplined at the plate. Before it's over, it ended up being one of the worst offensive performances of the year for us."
Kilian threw five shutout innings, at one point retiring seven straight on a day with temperatures starting in the low 40s.
The weather was favorable to the day before, though, where the teams took the field at Hoglund Ballpark with sub-freezing temperatures and gusts of wind in the 20-25 mile-per-hour range.
In similar fashion, the KU bats eventually warmed up in the bottom of the sixth. Down 8-0, the Jayhawks loaded the bases with nobody out, but they were retired in order — on two strikeouts and a groundout — to end the inning.
"That's the only thing I was disappointed in," said Price. "I was really disappointed in the noncompetitive at-bats that we had."
Weather permitting, the Jayhawks will look to avoid the sweep against the Red Raiders at 1 p.m. on Sunday. Right-hander Ryan Zeferjahn is slated to start that game against Tech righty John McMillon.
Texas Tech 232 001 101 — 10 14 1
Kansas 000 000 000 — 0 4 0
W — Caleb Kilian (4-1). L — Taylor Turski (1-4).
2B — Josh Jung, Grant Little, Cameron Warren, Zach Rheams, Cody Masters, Braxton Fulford, TTU. HR — Warren, TTU.
KU highlights — James Cosentino 2-for-4, Gabriel Sotomayor 3.0 IP, 1 ER, 2 H, BB 3 K, Steve Washilewski 2.0 IP, 0 ER, 2 BB, 2 K.
More like this story on KUsports.com