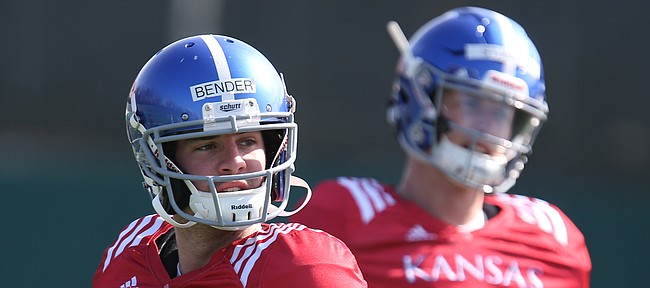 With nearly five months left between now and the season opener, Kansas football coach David Beaty is nowhere near naming a starting quarterback.
Now five practices into their spring schedule, Beaty said the Jayhawks' offense remains in the installation stage and he doesn't "want to put the cart before the horse" in terms of the QB competition.
"But I am pleased with the way the group is working," the fourth-year coach added.
The candidates for the team's most visible position include the two players who manned it in 2017, senior Peyton Bender and junior Carter Stanley, plus newcomer Miles Kendrick, a sophomore junior college transfer.
"Miles certainly has the opportunity that the other guys have, as well," Beaty said, when asked how the 5-foot-10 QB from San Mateo College (Calif.) factored in. "They always will. We're going to have a competitive spirit around here, and we always have. That won't be any different. But he's looking really good out there for a young guy. His completion percentage is way up there."
An under-the-radar recruit, Kendrick became San Mateo's starter in Week 4 of his freshman year this past fall, and finished with 1,889 passing yards, 18 touchdowns and nine interceptions, as well as 417 rushing yards and five touchdown carries.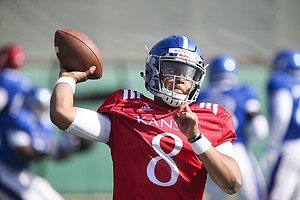 During KU's 1-11 2017 season, Bender started eight games (the first seven and the finale), completing 54.2 percent of his 273 passes for 1,609 yards, with 10 touchdowns and 10 interceptions.
Stanley moved up the depth chart to No. 1 with five games remaining and started four before missing the finale due to injury. Stanley, appearing in nine games total, connected on 54.6 percent of his 185 throws for 1,108 yards, with four TD passes and seven picks.
After battling each other for most of 2017, both Stanley and Bender said having Kendrick involved in the competition has brought a new dimension.
"There's now four of us in there," Stanley said of the QB room, including redshirt freshman walk-on Miles Fallin, "and I think every day we come to work with a good mindset and knowing that it's really anyone's job to win, and whoever's going to do what the coaches tell them and execute is going to get the job."
Bender shared that play-calling has stayed basic up to this point of the spring, as the players work with offensive coordinator and new QBs coach Doug Meacham.
"But so far I think it's looked real good. Miles and Carter have both looked real good," Bender said, adding more is asked of the quarterbacks as they progress through the 15-practice schedule. "But it's always good to compete."
According to Kendrick, KU's coaches haven't told him anything concrete about his chances in winning the starting job over the incumbents.
"It's still really early. Our mindset is just trying to get the most out of each other as a group and the coaches have been pushing us as a quarterback room, as a whole, to compete with each other and rub off on each other," Kendrick said. "Other guys do some other things well, and some guys have some other traits that guys can see and try to elevate those areas in their game. So that's really what we've been trying to do so far."
Beaty, too, emphasized the notion that each quarterback in the mix will force the others vying for the same job to improve their play or get left behind.
Document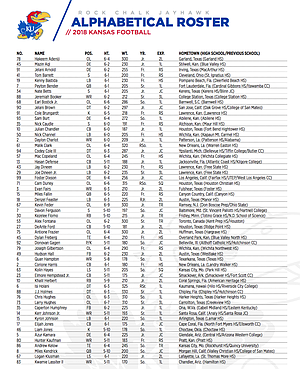 While Stanley didn't think a three-QB race made the situation more challenging than what he and Bender experienced the previous year, he also predicted Kendrick's addition will only serve as a positive.
"You just make sure you're on your toes every day, because it truly is a competition in everything you do," Stanley said.
Beaty praised KU's newest quarterback, Kendrick, for his commitment and work ethic, but opted to reserve further assessments of the dual-threat QB's play.
"It's really just a little early to be able to tell too much about him right now," Beaty said. "I'll know a little bit more here in six, seven practices."
KU's spring schedule concludes with the April 28 Spring Game at Memorial Stadium.
More additions
Further examination of KU's spring football roster revealed two more players who are new to the program this semester:
• Senior receiver Zach Nachbar, formerly of Butler Community College, listed at 6-3, 190 pounds.
• Sophomore defensive end Andrew Kelow, a transfer from Quincy University, listed at 6-4, 245.