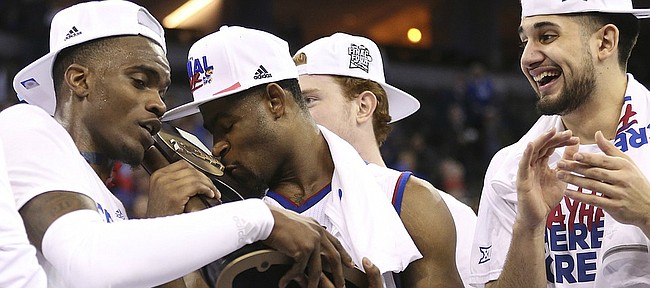 The Jayhawks may not have won the national title in this month's NCAA Tournament, but the team is still expected to generate some serious cash for making it to the Final Four.

The University of Kansas could earn at least $200,000 in licensing revenue as a result of the men's basketball program's tournament run. Pat Kaufman, KU Athletics' chief financial officer, provided an off-the-cuff estimate of $300,000 to $400,000 during a Thursday meeting of the Kansas Athletics board, though a later, more official estimate from KU Athletics proved slightly more conservative.
"I'd say an accurate estimate would be between $200,000 and $300,000," KU Athletics spokesman Jim Marchiony said in an email.

Kaufman said the revenue would be split evenly between KU Athletics and the university.
The standard royalty rate on KU-licensed products (think T-shirts and other Jayhawk-emblazoned apparel) is 12 percent of the item's wholesale price, Marchiony said. During the NCAA Tournament, that rate climbs to 18 percent. The NCAA takes 6 percent of that, and the remaining 12 percent goes to the university represented on the product.
A Final Four-themed product featuring the four competing teams in its design, Marchiony said, would yield 3 percent of sales to each school.
Licensing revenue figures from previous tournament appearances weren't immediately available. But it's known that winning a national championship means significant financial gains for the schools involved.
Sales of KU merchandise topped $47.3 million in 2008 after the men's basketball team won its fifth national title. The win generated an estimated $1.2 million in licensing royalties for KU Athletics, and about $752,000 for the university itself.
More like this story on KUsports.com