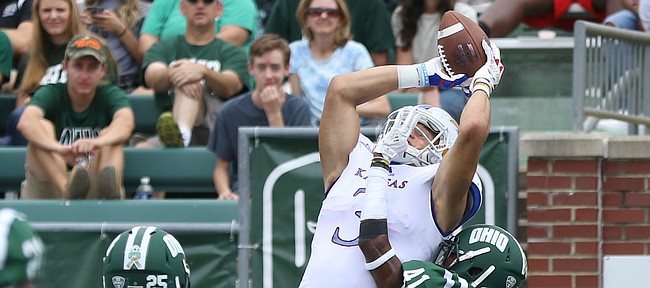 As he navigates through a troubling offseason, Chase Harrell remains a part of the Kansas football team.
However, head coach David Beaty said the junior receiver from Huffman, Texas, isn't practicing with the Jayhawks for the time being.
This past December, while visiting family and friends in Texas during the semester break, Harrell witnessed his older brother shot and killed. Less than three months later, in early March, Harrell was arrested in Lawrence on suspicion of DUI.
At the time of the arrest, Beaty stated he was looking into all the details of the situation. Speaking for the first time since on Thursday, the fourth-year KU coach said Harrell has participated in workouts, but is being kept out of practices.
"Obviously the number-one thing for Chase is his well-being. It's his well-being," Beaty repeated. "And we want to make sure — and we have made sure — that we're giving him every resource possible to make sure that he is getting himself into a good place. He's done a terrific job of doing everything that we've asked him to do and things that we've encouraged him to do."
Document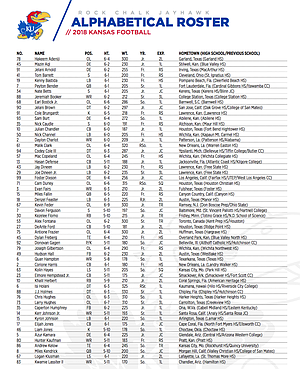 A 6-foot-4 receiver, Harrell played in all 12 games and started three as a sophomore, finishing with 25 receptions, 221 yards and three touchdowns.
Beaty didn't reveal when Harrell will be allowed to resume full participation.
"Football becomes secondary when it comes to guys that have gone through, as I think all of us are aware of, he went through an experience that I'm not sure many of us can affiliate with," the coach said, "with what he watched and what he went through over Christmas break. Us being able to give him that help is the number-one goal. So from that standpoint, we're focusing on that."
Harrell was not made available for interviews.
Ehambe not with team
Senior defensive end Josh Ehambe, though still with the program, isn't currently practicing with the Jayhawks.
Beaty said the 6-3, 247-pound defensive lineman hasn't been around because of past injury issues.
"We're trying to make sure that we're being very careful with our guys that have faced injuries, particularly head injuries. So Josh is one of those guys," Beaty said, "that we have kind of in the protocol, so to speak, to make sure that he is healing and healing properly."
Ehambe made 22 total tackles, 6.5 tackles for loss and 2.0 sacks as a junior, and also forced and recovered a fumble.
Charlot relocation explained
Receiver-turned-safety Daylon Charlot is starting this offseason back at his original position after being asked to join KU's defensive back corps this past fall.
Beaty said the 6-foot junior, who transferred to Kansas from Alabama in 2016, made the temporary switch to defense due to the Jayhawks' lack of depth at safety at the time.
The fourth-year KU coach described Charlot as excited to be back with the offense.
"But the thing I appreciate about Daylon is he did it selflessly," Beaty said. "When he moved, he did it selflessly to try to help the team."