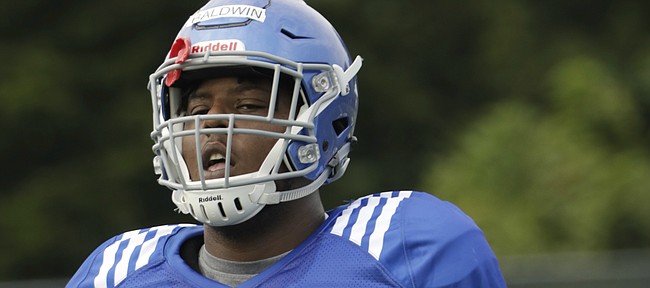 Although Charles Baldwin's name still appears on the Kansas football roster, the offensive lineman who spent one spring semester at Alabama two years ago actually hasn't been with the Jayhawks in months.
Baldwin, a 6-foot-5, 305-pound tackle first disappeared from KU's depth chart two weeks into the 2017 season. He soon after left the program completely, fourth-year head coach David Beaty revealed Thursday, during his first press conference of the spring.
Baldwin, though listed on the team's two-deep at right tackle ahead of the 2017 season opener, never appeared in a game for Kansas after sitting out the 2016 season as a transfer.
Document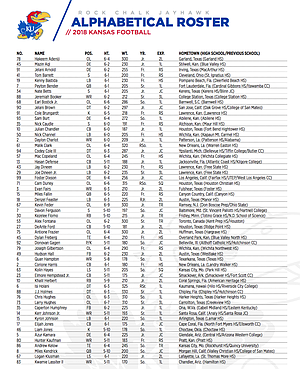 Beaty said the offensive lineman, rated a five-star prospect at ASA College (N.Y.) before briefly joining Alabama, is still at KU. Baldwin plans to complete his undergraduate degree and then seek a transfer.
"Charles has done everything that I've asked him to do to this point to be able to get that done," Beaty said.
Baldwin was conspicuously absent from the sidelines during KU's final five home games this past season.
KU's head coach confirmed Baldwin left the team early this past fall and hasn't been involved with any type of practices or workouts since.
"We haven't really been around each other in a number of months, but we do keep in contact," Beaty said of the estranged O-lineman.
"He's actually done a terrific job of managing his side of it. We wish him well. Looks like he's going to be on track to graduate," Beaty said, "and if he can get that done and he can get to the place he needs to get to."