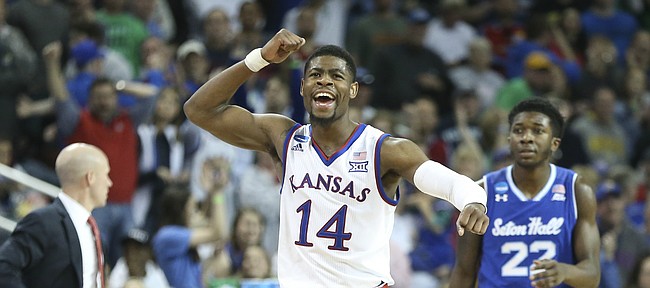 After a stellar run through the postseason that saw him lead the Jayhawks in scoring, Kansas sophomore Malik Newman is headed to the NBA Draft and will be forgoing his remaining eligibility at KU.

Newman's father, Horatio Webster, confirmed to the Journal-World that his son had made the decision to turn pro after two seasons and three years as a college athlete.
Newman's decision was made this week after discussing his options and the pros and cons of each with both his family and KU coach Bill Self.
Although the decision puts Newman on the path to achieving his ultimate and oldest goal as a basketball player, Webster said that Newman's focus throughout the 2017-18 season remained fixed on KU and helping the Jayhawks win as much as possible.
"He never even brought it up," Webster said of the NBA. "I know that's his ultimate goal. That's been his goal since he was 5 years old when he didn't even know what he was talking about, but the NBA never came out of his mouth."
KU officials confirmed Newman's news just after 5 p.m. on Wednesday via a press release announcing Newman's departure.
"First off I want to thank God for the opportunity," Newman said in the release. "I want to thank Coach Self and the coaching staff for giving me this opportunity to come to Kansas. I definitely want to thank my teammates. The journey with these guys has been nothing short of amazing. My two years here was everything that I asked for.
"I cannot thank the Kansas fans enough," Newman added. "They have been there since Day 1 and have supported me throughout my two years at Kansas. I'll always be a Jayhawk and this will always be home for me."
Newman, a former McDonald's All-American who once was projected as a Top 10 draft pick, has taken a longer road than expected to get to this point.
After electing to stay close to home for college after a standout prep career in Jackson, Miss., Newman endured a rough freshman season at Mississippi State and elected to transfer when it was over.
That led him to KU, which had been on his list of finalists the first time around, and, after two years as a Jayhawk — one in uniform and one as a redshirt — Newman is back on the NBA radar and ready to take his shot.
"My red-shirt year, I had a chance to develop and Coach Self took me under his wing and really prepared me," Newman said. "This year I had a chance to come out and play and this was the plan, to try to put myself in position to chase my dream. I sat down and talked with Coach Self and my family and this is the best time to do it. With that being said, I'll forego my junior year at Kansas and I will put my name in the NBA Draft and plan on signing with an agent."
Self, who has a strong record of supporting his players through decisions like these, even going as far as to encourage them to turn pro if that is the best decision for them and their family, clearly felt good about Newman's decision to chase his dream.
"Malik has done everything that we had agreed to," Self said in the release. "He came to Kansas and knew after a red-shirt year he would hopefully put himself into a position to be a professional basketball player after one year competing. He had a terrific season this year and was one of the best players in the NCAA tournament. I think this is good timing for Malik. We wish nothing but the best for him and appreciate all his efforts. We all know his best basketball is still ahead of him."
Projected, and perhaps even expected, to lead the Jayhawks in scoring during the 2017-18 season after a stellar redshirt year that had the KU coaching staff buzzing about his talent, Newman got off to a slow start and took some time to regain his form.
After a bit of an underwhelming regular season, the 6-foot-4 shooting guard exploded in the postseason, leading the Jayhawks in scoring in six of the eight do-or-die games they played in the Big 12 tournament and NCAA Tournament and becoming one of the hottest players in all of college basketball during that stretch.
His six 20-plus point games included two 30-point outings and a dominant performance in the Elite Eight win over Duke in which he scored 13 points in the second half and all 13 of KU's points in overtime to lead the Jayhawks back to the Final Four. That performance will not soon be forgotten around Lawrence.
For the season, Newman finished as KU's third leading scorer, at 14.2 points per game, and shot 41.5 percent from the 3-point line (making 85 triples) and a team-best 83.5 percent from the free-throw line.
In 31.6 minute per game, Newman also averaged five rebounds per night, which ranked second on the team for the season behind 7-foot center Udoka Azubuike's seven rebounds per game.
Although Newman's name has not appeared on any mock drafts in the past year, it did recently show up on DraftExpress.com's list of five players trending in the right direction for the 2018 NBA Draft and there are plenty of people out there who believe that Newman's stellar NCAA Tournament run put him back in the conversation for being drafted. Whether he can crack the first round and the land of guaranteed contracts remains to be seen and likely will depend largely on his performance at the upcoming NBA Draft combine, scheduled for May 16-20 in Brooklyn.
Newman, 21, plans to hire an agent in the coming weeks and, therefore, will forego his remaining collegiate eligibility.
With Newman off the books, KU now has 13 scholarship players on the current roster for the 2018-19 season, but that number could dip by one or two more if either junior Lagerald Vick or sophomore Udoka Azubuike decide to follow Newman out the door to pursue professional opportunities.
Kansas, which is considered by many people as one of the preseason favorites entering the 2018-19 season, remains in strong pursuit of five-star shooting guard Romeo Langford, the top remaining unsigned player in the 2018 class, who is ranked No. 5 overall by 247 Sports and No. 6 by Rivals.com.
Langford, who said last week that he would like to make a decision by the end of the month, is down to Kansas, Indiana and Vanderbilt and there has been some speculation on the recruiting circuit that he has waited this long to see what Newman might do. If that's accurate, Newman's departure could wind up being good news for both KU and Newman.