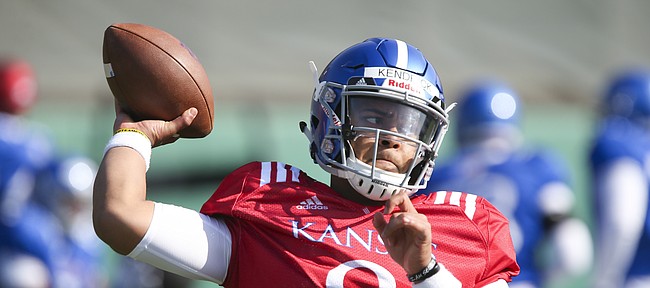 His freshman regular season already in his rear-view mirror this past fall at College of San Mateo, Miles Kendrick hadn't ruled out finding a four-year football program to call his new home before his sophomore year. But time was running out.
Kendrick enrolled at the junior college about an hour up the 101 Highway from his hometown of Morgan Hill, Calif., thinking, "If you go and you play and you're successful, schools can take you early."
But here the quarterback was, a week into the playoffs, about to lead his team to the California Junior College Championship Game, but still always wondering in the back of his head whether his production would lead to an offer. His "number-one goal" all along, as a qualifier out of high school, was to turn one juco season into a spot on a Division I roster by the spring of 2018.
Finally, in mid-November, coaches began to visit and call Kendrick. Among them were Kansas assistants Jesse Williams and Garrett Riley and offensive coordinator Doug Meacham, paving the way for the 5-foot-10, 200-pound QB to join the Jayhawks after one semester of juco prosperity — he passed for 1,889 passing yards, 18 touchdowns and nine interceptions, and ran for 417 rushing yards and five TDs.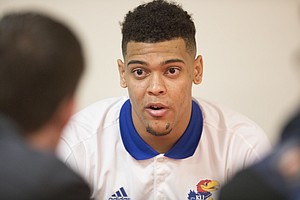 Weeks removed from thinking another semester, perhaps even a full sophomore season, at San Mateo awaited him, Kendrick signed with KU in January and moved to Lawrence to get to work.
Rated a three-star, dual-threat QB by Rivals, Kendrick began his preparations with his position coach, Riley, and Meacham, who started by going over fronts and coverages and teaching him how to attack defenses.
"It doesn't matter what we call unless you know what these guys are trying to do to you," Kendrick said in February, before spring practices began the last week of March. "The whole quarterback group, we're starting from the ground up and trying to work through it from there."
Kendrick said returning quarterbacks Peyton Bender and Carter Stanley helped his development immediately through reviewing plays, signals and more.
Fourth-year head coach David Beaty described Kendrick as a QB who can move in and out of the pocket or run the ball effectively. Kendrick hopes his versatility will help him as he competes with two returning starters.
"I feel like I can throw the ball with the best of them. I feel like I can spin it with the best of them. In some cases I may feel like I spin it the best. But, also, I think I bring a different dimension, different abilities," Kendrick said, when asked how his style differed from Bender and Stanley. "I can extend the play, make some plays outside the pocket. I think I bring a different feel to the quarterback room, definitely a guy who can do some different things than those guys in the quarterback room right now."
Kansas completed its fourth offseason practice on Wednesday. Beaty is scheduled to have his first media session of spring football Thursday, and will be able then to give his assessment of KU's QB situation.
Before the practices began, Kendrick anticipated making a positive first impression.
"This is why I chose KU, to be able to come and compete in the spring," he said.
How confident was he entering the spring that he could work his way up the depth chart, to No. 2 or even No. 1?
"I've always had to be confident in myself in general. Because a lot of people, they see you and they have their assumptions: 'You're undersized and you can't compete.' But I've always been confident in myself to compete and be the guy," Kendrick said. "I think if you play the quarterback position you always have to feel like that. You always have to feel like at any given moment you could be the guy."
KU's practices will continue throughout the month, concluding with the Spring Game, on April 28, at Memorial Stadium.