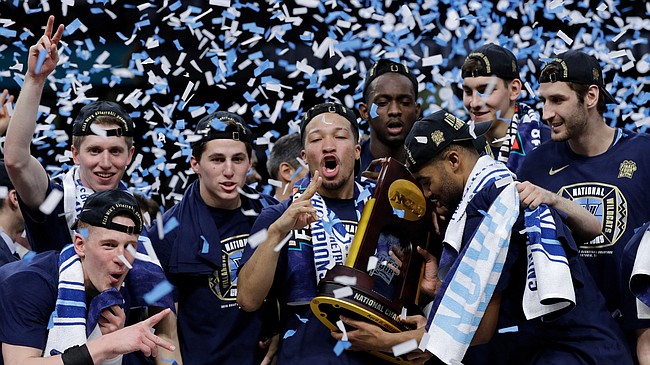 Kansas had a remarkable run, all right, all the way to the Final Four.
Devonte' Graham's upbeat leadership. Malik Newman's killer shooting. Udoka Azubuike's battle back from a knee injury. Svi Mykhailiuk's 3-point shot and Newman's defensive stop that forced the game into overtime, where Kansas beat Duke. It all made for such an amazing March that we might be guilty of having overlooked other stars who shined so brightly during a magnificent March Madness tournament.
A look at eight gigantic non-KU stories from the tournament, in chronological order:
Buffalo 89, Arizona 68: ESPN reported that an FBI telephone wiretap caught Sean Miller discussing a $100,000 payment that would lock up the recruitment of DeAndre Ayton. Other outlets disputed the timeline reported by ESPN, which led to a correction and put the report in doubt. So Miller, who had taken a one-game leave of absence, returned to work and Ayton never missed a game because of it. The NCAA's worst fear: Arizona would win the tournament. No. 13 seed Buffalo rode to the NCAA's rescue and shocked the world when guards Wes Clark, Jeremy Harris and C.J. Massinburg combined for 67 points, just one shy of Arizona's total, in a first-round blowout.
K.J. Maura and the Retrievers: Fictitiously listed at 5-foot-8, the shorter-than-that Maura, a UMBC point guard from Puerto Rico, had the contagious spirit to turn the entire team into believing that giants are to be slain, not feared. UMBC not only became the first No. 16 seed to defeat a No. 1, the Retrievers destroyed Virginia, the tournament's No. 1 overall seed, 74-54. Jairus Lyles made 9 of 11 shots and the degree of difficulty on some of them was outrageous. The Retrievers had lost to Albany, 83-39, on Jan. 21. Who knew that Albany was 64 points better than Virginia?
I had a chance to chat with always-entertaining and insightful Bill Raftery, who was the color commentator for the UMBC upset.
"It's funny how every year some special things happen. I would have said going into that game I'd be happy if we could get four minutes, eight minutes, a half (of competitive basketball) because of the way Virginia was playing," Raftery said. "These kids, they thought they were good, and they were going to prove it. Nobody gets to the basket against Virginia, and they got whatever they wanted. And all the sudden, there was that uncomfortable feeling, you could see sort of panic, and Virginia was gone. It was just amazing to see it at that level."
Early in UMBC's loss to Kansas State, Wildcats center Makol Mawien, a muscular 6-9 center, guarded Maura, who had just made a couple of spectacular plays, on a switch. It led to what was the best line I heard from a broadcaster all year.
"If he dunks on him, I'm going home," Raftery said.
Tony Bennett's interview with Tracy Wolfson: Interviewing the losing coach on live TV can't be an easy task under the best of circumstances. Wolfson, so professional and pleasant, is ideally suited to the task, but still, interviewing the losing coach after the biggest upset in NCAA tournament history, what a challenge.
Bennett made it look easy by showing so much class.
"I told our guys, we had a historic season, historic season in terms of most wins in the ACC," Bennett said. "A week ago, we're cutting down the nets and the confetti's falling. And then we make history by being the first 1 seed to lose. … And it stings. But I try to tell the guys in there, this is life, this is life. It can't define you. You enjoyed the good times and you've got to be able to take the bad times."
Perfect message.
Jordan Poole's buzzer miracle: Legs splayed, freshman Jordan Poole hit a guarded, deep 3-pointer to barely beat the buzzer and lift Michigan past Houston, 64-63, the difference between bowing out in the second round and making it all the way to the national-title game.
Poole had not scored a point the entire second half.
"The guy has got an overdose of swag," Michigan coach John Beilein said.
Poole sprinted a lap around the edge of the entire court, running too fast for teammates to catch him.
Barry Brown's bucket: Injured Kansas State star Dean Wade played eight first-half minutes. His foot stress fracture prevented him from playing beyond that and still K-State knocked off Kentucky to advance to the Final Four. As if jet-propelled, Barry Brown took off down the left side of the lane and scored the winning bucket amid a forest of much taller McDonald's All-Americans. Great shot and a great performance by Kansas State.
Nevada's comeback: Led by identical twins Cody and Caleb Martin, Nevada made it all the way to the Sweet 16, rallying from a 22-point deficit in the final 11 minutes against Cincinnati to get there.
Sister Jean and the Ramblers: Sister Jean, Loyola of Chicago's team chaplain and scout, showed that age is just a number the way that K.J. Maura showed the same about height. At 98, Sister Jean drew a huge crowd for her very own Final Four press conference, and felt right at home watching her beloved Ramblers win three close games and then score a rout against Kansas State to advance to San Antonio.
Donte's Inferno: Villanova was such a terrific team that Donte DiVincenzo, the high-flying, sharp-shooting 6-foot-5 redshirt sophomore, came off the bench. He torched Michigan for 31 points in the title game, 18 in the first half, and made 5 of 7 3-pointers, to go with a very memorable pass and dunk.
Villanova left no argument as to the best college basketball team in 2018.
More like this story on KUsports.com