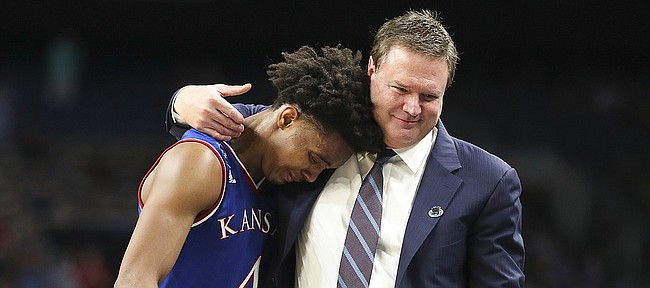 San Antonio — Kansas guard Devonte' Graham could have gone on so long as to miss the team flight home when asked after a national-semifinal loss to Villanova what he'll miss about playing basketball for Kansas.
"Everything," Graham said. "I can't say just one thing. The coaching staff, all the friends you make and the fan base is amazing. And just waking up in our dorm and being able to walk over to the fieldhouse and shooting and practices. Man, just everything I'm going to miss, for real."
He'll be missed by fans, teammates, coaches, fellow students, even more than he'll miss it.
No matter how talented the opponent, how big the moment, Graham never shrunk from the weight of the challenge. He didn't allow anything to crush his irrepressible will to win and passion for the game.
If ever there were a night to let the surroundings douse his competitive spirit, Saturday was it in a 95-79 loss to Villanova in the Alamodome, in which Kansas fell behind 22-4.
Graham never stopped believing. When ball movement was stagnant, he took it upon himself to create shots and in his final game finished with a team-high 23 points and made 4 of 8 3-point shots.
Graham played in 15 NCAA tournament games during his four-year KU career, winning 11. As a three-year starter, he went 10-3, made it to two Elite Eights and a Final Four.
Despite being limited to three points, all from the free-throw line, in an Elite Eight loss to Oregon in his junior season, Graham averaged 13.8 points in 15 NCAA tourney games. He shot .474 from 3-point range and .807 from the line, a nod to his clutch nature.
In recent years, the standards for having a banner hung in the rafters of Allen Fieldhouse have softened some, but Graham would qualify in any era, thanks to earning first-team, consensus All-American honors as a senior.
The lone senior on the first team, Graham joins Villanova junior Jalen Brunson and a trio of freshmen: Oklahoma's Trae Young, Marvin Bagley III of Duke and Arizona's Deandre Ayton.
It's time for all five players to play for pay.