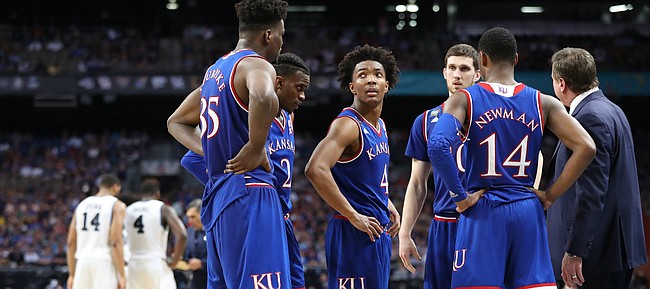 Kansas basketball coach Bill Self, up close and in person, saw all he needed to see during Saturday's 95-79 Final Four loss to Villanova at The Alamodome to know what went wrong, why the Jayhawks could not set it right and how a slight lack of energy early and an amazing performance from the Jayhawks' opponent ended KU's season.
So don't expect him to relive the moment again any time soon.
"If I ever watch the tape again, which I doubt I do, I think I'll find out that we didn't have much aggressiveness in a couple spots," Self said after Saturday's loss, referencing KU's perimeter defense in the early going of that season-ending loss. "You always want to put yourself in a position to win. But when it's the last game, but when it's the last game, certainly it stings and hurts no matter what."
Photo Gallery
Kansas basketball v. Villanova (Final Four)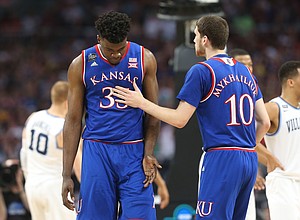 View a gallery of images from the Kansas Jayhawks' semifinal game against the Villanova Wildcats on Saturday, March 31, 2018 at the Alamodome in San Antonio, Texas.
For about 30 minutes inside a subdued Alamodome locker room, the Jayhawks sat stunned, searching for answers to questions from a few dozen reporters, most of them inquiries about Villanova's record-setting 3-point night and how — and when — the Jayhawks would put their 31-8 season in proper perspective.
Such moments come with the territory when you're competing for the top prize in your sport. And although it's certain that none of the Jayhawks were enjoying themselves, each of them answered as best they could with class, kindness and a hint of confusion as to how this could happen to them.
When they were done, all they were left with was silence.
Junior guard Lagerald Vick sat low in his chair, legs spread, shoulders slouched, head between his knees, staring at the ground.
Sophomore center Udoka Azubuike, after sitting back and spitting out quality insight for a good 20 minutes, eventually sat upright but only to better position himself to put his head in his hands, where it remained for nearly as long.
The consensus opinion from inside the KU locker room was that Villanova deserved all the credit in the world for delivering a masterful game on the biggest stage.
The consolation prize for Kansas? A pat on the back from their head coach.
"He just asked us to keep our heads up," Azubuike said. "Right from the jump, nobody even believed that we would be where we are right now, in the Final Four, fighting for a national championship."
Added senior Devonte' Graham, who played the 142nd and final game of his stellar Kansas career on Saturday night: "He told us we should keep our heads up. We had an unbelievable season. You know, it's not the way you want it to end. But even if you (lose) by one point it will still hurt. It's going to hurt now, but we'll be all right."
Putting his money where his mouth was, Graham proved that the healing process had already begun a little less than 90 minute after the final horn sounded, when he penned a heartfelt note to Jayhawk fans and posted it on social media.
"MAN MAN MAN," Graham's postgame ode began. "It's been an UNBELIEVABLE RIDE. I just want to say THANK YOU !!!! To the best fans in the nation hands down! My coaches for this once in a lifetime opportunity & everyone who's ever sacrificed anything for this program! It's hard and I'm in tears right now but I couldn't have asked for a better 4 years of my life …. This University and this program is like no other !! All the memories, all my brothers, 4x champion, traveling the world... I never imagined being in this position and I honestly have nothing to hang my head about. Tough loss, but at the end of the day I'm going to always be a champion (because) I'm a JAYHAWK! ROCK CHALK! I LOVE YALL TO DEATH."
Graham was not the only Jayhawk making progress toward getting past Saturday's loss.
Even Vick, with his head still planted and voice projecting to the floor, showed signs of feeling encouraged.
"I guess," he said when asked if the joy of finally breaking through to the Final Four eventually would erase the pain of the season's last loss. "I mean, you want to make it farther than that, but it is an accomplishment."
Added sophomore Malik Newman: "It's never good to end your season the way that we did. We definitely had some great moments, but tonight, I don't think we had any great moments. It's definitely going to be tough to swallow. If it was a one-point loss or a 20-point loss, at the end of the day it's just tough."
With that, the Jayhawks now head into another offseason with an experience that will stick with all of them. For those who return, simply seeing what it took to reach this point and getting a taste of what the Final Four is all about will be fuel for a return trip in 2019.
Some of them said as much on Saturday night.
For the rest, whether like Graham, Svi Mykhailiuk and Clay Young, who are graduating, or any of the others who may leave early or are arriving for the first time — don't think for a second that KU's players in the high school class of 2018 were not paying attention to this like they were a part of it — the end of the road came swiftly and without disguise.
"Oh, I think it's hit them all," Self said outside of the Kansas locker room. "I do. I don't think that's going to be something that's going to take a long time."
---
More news and notes from Kansas vs. Villanova
---