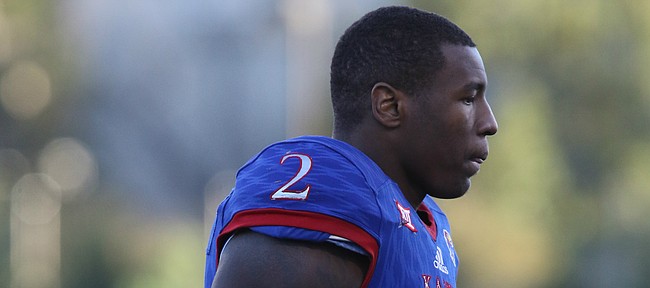 As the Kansas football team attempts to earn its first Big 12 victory of the season Saturday versus winless Baylor, the Jayhawks expect to have one of their most talented players available to help them in that endeavor.
Junior captain and standout defensive end Dorance Armstrong Jr., who suffered an ankle injury during the second quarter of KU's loss to rival Kansas State and didn't return, was cleared to practice Tuesday and could be back to full strength in time for kickoff against the Bears (11 a.m. Saturday at Memorial Stadium, FOX Sports Net).
"He looks like he's going to be fine," Kansas head coach David Beaty said at his weekly press conference. "Looks like everything is good to go for practice. He's cleared for today, so hopefully everything will work out and we'll get him full-speed by Saturday."
Armstrong made a season-low one tackle against K-State, but also forced a fumble before later limping off the field and watching the rest of the game from the sideline, often on a stationary bike.
Podcast episode
On this episode of the KU Sports Hour, hosted by KU football beat writer Benton Smith, the KUsports.com staff discusses KU's 30-20 loss to K-State. Topics include: KU's special teams issues (open-7:16), Carter Stanley's big day (11:45-19:45), players of the game (19:45-27:35) and the KUsports.com football mailbag — the "Siesta" ...
"I just rolled my ankle. I figured I would come back," Armstrong said of his initial in-game reaction to the injury. "But it was just a little too much pain and the way K-State ran the offense I wouldn't be able to hold my ground like I need to."
The starting defensive end credited backup defensive lineman KeyShaun Simmons for filling in well.
"KeyShaun came in, held his ground, made plays, as was expected from him," Armstrong said after Simmons, a junior college transfer in his first year with KU, made a sack and two solo tackles. "The rest of the game, the defense, they did their thing."
Armstrong, who is receiving treatments on the ankle three times a day, said it felt much better Tuesday than it did three days earlier: "I'd go with a good 90 (percent) right now," he said. "Pretty sure by the time Saturday comes I'll be at 100."
QB Stanley a permanent starter?
Although Beaty has complimented redshirt sophomore quarterback Carter Stanley for his play vs. K-State — 23 for 48 passing, 418 yards, one touchdown, one interception — the third-year head coach hasn't come out and declared Stanley the Jayhawks' starter for the remainder of the season.
Asked for an explanation on the matter, Beaty replied: "Y'all know me, you're only as good as your next."
The coach added that if Stanley stays healthy and continues to be productive as KU's QB after replacing former starter Peyton Bender, he doesn't think there will be any reason to take starting duties away from Stanley.
"It's a production business. If you continue to produce, we'll stay with you, obviously, right?" Beaty said. "I will say this, having Mesa (Ribordy, starting center) back was a big deal. You know? I know that the previous two weeks with Peyton were tough (a 45-0 loss at Iowa State and a 43-0 defeat at TCU), but there's a big difference in the amount of time that Carter had to throw and Peyton had to throw the last two weeks now."
Lee comes off bench
In KU's 30-20 home loss to K-State, sophomore safety Mike Lee didn't start for the first time this season.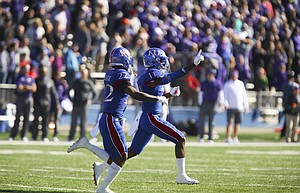 Beaty said the staff went with sophomore Shaq Richmond at Lee's normal spot because coaches wanted Lee to address some on-field issues that plagued him recently.
"How he tackled, how he fit into certain gaps, just a couple of feet here or there was making a big difference on how much space a running back was having as he broke through the big gap and the boundary," Beaty said. "Those things are very important for a young guy. They don't understand it sometimes."
Lee went on to make seven total tackles and two tackles for loss as a temporary substitute, which made Beaty proud.
"He tackled so much better than he had. He still had some things that he's got to get better at. But I warned, we warned him, and I talked about it publicly, our job is to not let him have a sophomore slide, because that happens almost everywhere," Beaty said. "When you have a really good freshman year, it's very, very difficult to replicate that as a sophomore."
A 5-foot-11, hard-hitting defensive back from New Orleans, Lee has 59 total tackles on the season, as well as two interceptions.
"He's committed to it, and he lets us coach him," Beaty said, "which is the best thing I can say, because we wear him out all day every day. We want him to be good. We want him to be a good player."
Hannon's status unclear
Kansas (1-7 overall, 0-5 Big 12) again played this past weekend without one of its starting offensive linemen. Though center Ribordy returned, the Jayhawks lacked right tackle Zach Hannon because of an unspecified injury.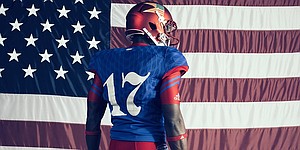 "Not having Zach hurts you," Beaty said of the graduate transfer from Nebraska, who was replaced in the starting lineup by redshirt sophomore Clyde McCauley III. "He's got a lot of knowledge, he's been around a long time, but he's unavailable. We'll see if we can get him back this week. I don't know if we will, but hopefully we can. But it's good to see those guys behind him continue to develop so we don't have a huge drop-off."
KU to wear special 'free state' uniforms
KU and Adidas on Tuesday unveiled special "Jay-Hawkers" alternate uniforms, which the team will wear against Baylor (0-8, 0-5) in conjunction with the program's annual Salute to Service weekend.
With inspiration from Kansas' history as a "free-state," the special-edition look was inspired by Colonel Charles Jennison and his 7th Regiment Kansas Volunteer Cavalry. This cavalry regiment, which was also known as Jennison's Jay-Hawkers, was established in October 1861 and served the Union Army during the American Civil War.
"They really are first class," Beaty said of the alternate look for KU's helmets and jerseys. "Those uniforms were created, you know, this week, basically, honoring the Civil War era, inspired by the Free Staters of Kansas. So it's a really, really cool deal. If you haven't seen the background on it, some of that stuff, the symbolism behind it, it's really cool. Very detailed, really cool."