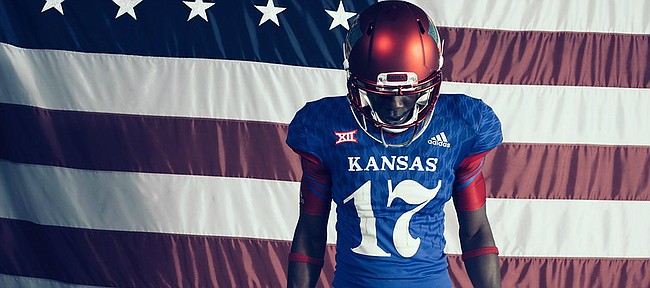 The Kansas football team will pay homage to the state's Civil War past this weekend during an 11 a.m. kickoff against Baylor at Memorial Stadium.
KU and Adidas on Tuesday unveiled the "Jay-Hawkers" alternate uniform, which will be worn in conjunction with the program's annual Salute to Service weekend.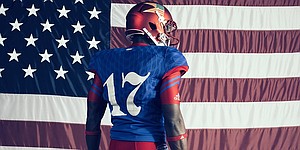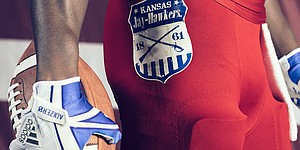 With inspiration from Kansas' history as a 'free-state,' the special-edition look was inspired by Colonel Charles Jennison and his 7th Regiment Kansas Volunteer Cavalry. This cavalry regiment, which was also known as Jennison's Jay-Hawkers, was established in October 1861 and served the Union Army during the American Civil War.
According to a press release, "the theme of the regiment is seen immediately on the matte crimson helmet featuring the calvary's guidon, a smaller, swallow-tailed flag, showcased on both sides of the helmet. A chrome red facemask at the top of the helmet fades to silver to provide contrast."
Drawing upon KU's primary colors, the blue jersey features the traditional 'KANSAS' stretched across the front in all white, while the player numbers are also white, but include a slight limestone brick pattern.
On the back of the jersey, instead of player names, each jersey highlights a patch signifying the start of the Kansas Jay-Hawker regiment in 1861. Within the logo is a crossed rifle and saber, which were provided to volunteers when they joined the regiment.
Additionally, the overall theme is incorporated into the uniform's crimson-colored pants that were influenced by the company of border scouts formed in 1862 known as the "Red Legs." This company was known as such because of their red or tan-colored leather leggings.
Merchandise featuring this alternate look is available at Rally House Allen Fieldhouse, at Memorial Stadium or online at KUStore.com.