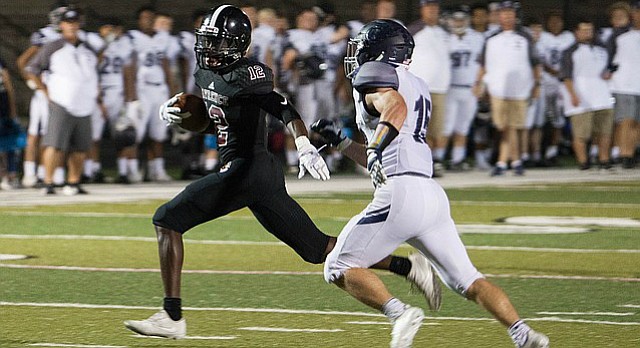 A few weeks ago, Lawrence High senior cornerback Ekow Boye-Doe told Kansas State's football coaches that he planned to commit in the near future.
He was just waiting for his brother, Panyin, to complete a video to accompany his announcement, which he released on Twitter on Monday. The seven-minute video chronicled his journey from his childhood in Ghana to youth football to eventually his college decision.
Through three or four unofficial visits since the summer, Boye-Doe envisioned himself suiting up for the Wildcats and built a strong relationship with K-State quarterbacks coach Collin Klein and director of football recruiting Taylor Braet.
"I just felt like I was a part of the family already on my first unofficial," Boye-Doe said. "It was just great."
Boye-Doe has starred at receiver and cornerback for Lawrence High this season. He mostly defends in press coverage, using his speed and length to his advantage. He ran a 40-yard dash at a summer camp in a blistering 4.38 seconds.
In his senior year, Boye-Doe hasn't grabbed an interception but he's constantly limited opposing teams' top receivers.

"You can put him one-on-one with someone and worry about the other 10 players," Lawrence coach Dirk Wedd said. "That's very unique for a high school football player.
"His best football is ahead of him."
Boye-Doe is the second player from Lawrence to pick K-State in the last three years. Scott Frantz, from Free State, starts at left tackle. Frantz sent a message on Twitter to Boye-Doe following his commitment.
"Just told me that he's happy to welcome me to the family," Boye-Doe said.
The Wildcats offered a scholarship to Boye-Doe at the end of July, his first offer from a Power Five program. Kansas followed on the next night after he participated in the Jayhawks' Friday Night Lights camp.
Despite the offer, the Jayhawks were never very active in his recruitment.
"They didn't really recruit me," Boye-Doe said. "But I'm not mad about it."
After making his announcement via Twitter, Boye-Doe said he hasn't heard any jokes about a player from Lawrence committing to K-State.
"No, I haven't got any of that yet," Boye-Doe said. "Mostly people were telling me that I made the right decision."