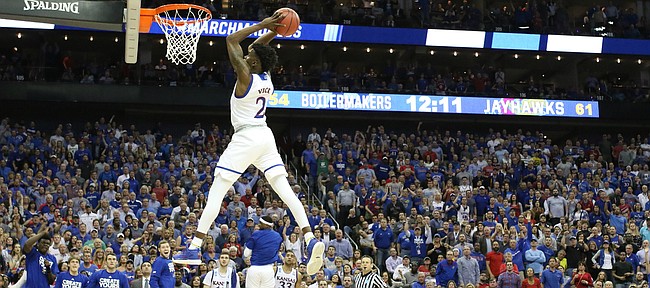 Kansas junior Lagerald Vick experienced the thrill of hearing the roar of the Allen Fieldhouse crowd when his named was announced as a starter in five consecutive games last season.
Then Vick lost his starting spot to Svi Mykhailiuk and never regained it, starting just once more when Josh Jackson was suspended for the Big 12 tournament opener, a loss to TCU.
Vick and Svi both started in an exhibition victory against Missouri in Sprint Center, along with Devonté Graham, Malik Newman and Udoka Azubuike.
Vick's plan to keep his starting spot this time sounds pretty simple.
"Just focus on basketball and school, have blinders on, not let anything off the court or on the court get in the way of what I came to Kansas to do," Vick said Monday afternoon.
And what did he come to Kansas from Memphis to do?
"I came for a degree and also to become an NBA star," Vick said Monday afternoon.
Vick made things more complicated than that at times during his first two years in Lawrence.
Vick was the subject of an investigation by KU's Office of Institutional Opportunity and Access, which reportedly ruled that his former girlfriend, ex-KU women's basketball player McKenzie Calvert's accusation that Vick punched her and kicked her in the face in December 2015, was "more likely than not" true.
In a separate incident, Calvert later said that she threw a drink in Vick's face on the night that Josh Jackson's foot went to town on Calvert's car in the Yacht Club parking lot last Feb. 24.
It was good to hear Vick, without being asked about the incidents, address Monday in general terms what he needs to do and needs not to do in order to accomplish his goals.
Kansas coach Bill Self smiled about the second half of Vick's statement on why he came to Kansas.
"Not an NBA player, an NBA star?" Self said. "Let's be college star first."
Then Self sounded confident that Vick has his head in the right place.
"I actually think the kid has been great and I do think he can become a college star and I do think that he'll have a chance to play in the league for a while if things go really well," Self said.
The talent is there and so are the role models, Graham most prominent among them. Only Vick can get in Vick's way of accomplishing his goals.
"I don't think we have anybody who's quite talented enough to allow them not to be their best for whatever reasons and still play at the highest level," Self said.
The coach liked hearing what Vick said.
"I think that's good," Self said. "He needs to be focused. He needs to eliminate distractions and anything that would keep him from being as good as he could be on the court because he can be really, really good. I'm probably his biggest fan when it comes to how good I think he can be."
Quickness ranks at the top of Vick's wide array of basketball gifts, followed by leaping ability, a soft shooting touch from long range and good ball-handling skills for a 6-foot-5 wing.
Those qualities and sure hands give Vick tremendous rebounding potential, a potential deficiency for this fast Kansas basketball team blessed with proven 3-point shooters and a powerful center.
"It should (make him a good rebounder), but he's not," Self said. "I was hoping you'd say he was going to put blinders on and defend and rebound. That's what I was hoping you'd say. At least we're gaining on it a little bit. At least we have the blinders on. We just have to make sure we emphasize the right things. There is nobody who should be a better offensive rebounder, and he gets a running start, but it takes a lot of effort to get that running start."
Self's not asking Vick or any of his guards to crash the offensive boards on every shot, but he does need them all to do better on the boards if he's going to continue to start four guards.
"You don't have to go (after offensive boards) every possession, let's be real, but if he were to go hard 60 percent of the possessions to offensive rebound he'd steal us four to six more points every game," Self said. "You're not going to be positioned to go 100 percent of the time. Big guys should, but not guards. But if he can get to be a 60 percent kind of guy, I think that bodes well for us."
Self explained what he'd like to see more of from his two biggest guards.
"Svi and Lagerald are athletic, but they don't play with their hands above the rim near as often as they should going after balls," Self said.
Vick said Self "always emphasizes defense and rebounding," and added that he has been "working on it a lot," even outside of practice.
"I do little drills by myself, just like throw the ball off the backboard and jump as high as I can, run outside the 3-point line and chase the ball down, just small things to focus on," Vick said.
His blend of basketball skills and physical gifts made him a prospect worth recruiting. His on-court improvement as a sophomore made him worthy of sixth-man duty. If he can steer clear of trouble off the court, stay on course for earning a degree and train his basketball focus on defense and rebounding, stardom will be within his reach.