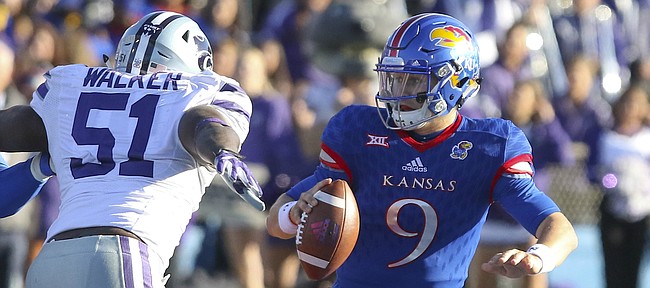 At some point early this past week, head coach David Beaty and his Kansas football offensive assistants decided to try a different approach at quarterback.
After seven starts for junior Peyton Bender yielded 204.1 passing yards a game, eight touchdowns, nine interceptions and just one victory, Beaty and company made redshirt sophomore Carter Stanley the Jayhawks' new No. 1 QB against Kansas State.
"You know, it was a situation where his skill set probably gave us a better opportunity," Beaty said Monday on the Big 12 coaches media teleconference of favoring Stanley, "because of his ability to move in and out of the pocket and extend plays a little bit more."
Stanley, who started the final three games of 2016 for Kansas, responded to his return to first-string status by passing for 418 yards, with one touchdown and one interception in a 30-20 home loss to Kansas State.
"It's no secret that we have been banged up up front. We did get our center (redshirt sophomore Mesa Ribordy) back, which was a huge, huge deal for us. But we had several guys playing out of position for a couple of weeks there, which makes it very difficult for anybody in the back, back there," KU's third-year coach said, referring to Bender's recent struggles. "But Carter's ability to move around was something that we certainly felt like we had an opportunity to get better with."
Podcast episode
On this episode of the KU Sports Hour, hosted by KU football beat writer Benton Smith, the KUsports.com staff discusses KU's 30-20 loss to K-State. Topics include: KU's special teams issues (open-7:16), Carter Stanley's big day (11:45-19:45), players of the game (19:45-27:35) and the KUsports.com football mailbag — the "Siesta" ...
Beaty stated Bender supported Stanley's move up the depth chart, as Stanley supported Bender when their roles were reversed — though Stanley broke his hand in August, making it less of a competition early in the season.
"Those guys want to win," Beaty said of Stanley and Bender. "That's what I mean by having the right guys in the locker room. They just want to win. They want to do it for our fan base, they want to do it for our stakeholders. So they've got the right mentality. No doubt about it."
KU, Baylor in similar situations
A scan of the Big 12 football standings shows only two winless teams in conference play: Kansas and Baylor, who will square off Saturday at Memorial Stadium (11 a.m. kickoff, FOX Sports Net).
Beaty predicted a lot of success for first-year Bears coach Matt Rhule and his staff in the future.
"The way that they battle to the wire every game. They just about had West Virginia," Beaty said of the Mountaineers' 38-36 win over BU on Oct. 21. "They played Oklahoma really, really tough (49-41 loss). They played several teams very, very tough. They've got a bunch of talented young guys, and usually that translates to a great future."
Unlike KU (1-7 overall, 0-5 Big 12), which picked up a victory during the nonconference portion of the schedule, Baylor (0-8, 0-5) enters the weekend winless. The Bears dropped September home meetings with Liberty and Texas-San Antonio, and lost at Duke.
Brown joining KU's Ring of Honor
The Jayhawks' home date with Baylor doesn't only represent a chance to end their seven-game losing streak. The penultimate home game this fall also will feature a special induction for all-time program great Gilbert Brown. KU announced Monday the former standout defensive lineman will be inducted into the Ring of Honor.
Brown, who played for Kansas from 1989-92, and members of the 1992 Aloha Bowl team will be part of on-field recognitions.
"Gilbert was our first big-time recruit," former KU football coach Glen Mason said in a release. "I remember his decision came down to Michigan and Kansas. He was a primary factor in turning KU into a winning program."
In Brown's senior season of 1992, the Jayhawks went 8-4 overall, and 4-3 in the Big 12, finishing third. They defeated BYU in the Aloha Bowl, 23-20, and finished the season ranked No. 22 in the AP poll.
Brown became a third-round NFL Draft pick of Minnesota in 1993, had a 10-year pro career and won a Super Bowl with Green Bay.
Brown's name will be the 19th on display in KU's Ring of Honor, and the third to go up this season, joining Aqib Talib and Anthony Collins.