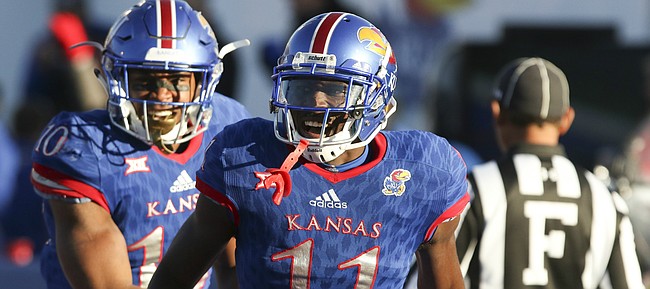 As much as his football team's offensive flaws troubled Kansas receiver Steven Sims Jr. of late, his own lack of production perturbed him most.
A junior and the Jayhawks' top threat in the passing game, Sims expected much more out of himself in consecutive shutout road losses to Iowa State and TCU than the one catch he had to show for his efforts in each defeat.
Leading up to KU's home game with Kansas State, Sims' position coach and offensive coordinator Doug Meacham could see the speedy 5-foot-10 wideout from Houston had a different look in his eyes.
"He's pissed," Meacham said last week, "which he should be."
Sims channeled his frustrations and turned them into a career day during a 30-20 loss to K-State, with nine receptions for 233 yards and a touchdown — a stat line good enough to earn co-Big 12 Offensive Player of the Week honors, with Oklahoma running back Rodney Anderson (181 rushing yards and a TD versus Texas Tech).
"Coaches know," Sims said of his demeanor after making one catch for 6 yards at ISU and one for minus 2 yards in the debacle at TCU. "At wide receiver you want the ball every play. For me to have one catch for two games, of course I'm mad. (Meacham) knows that. But I didn't have to say that. I just come to work every day and work hard, because I know that it's going to come."
Podcast episode
On this episode of the KU Sports Hour, hosted by KU football beat writer Benton Smith, the KUsports.com staff discusses KU's 30-20 loss to K-State. Topics include: KU's special teams issues (open-7:16), Carter Stanley's big day (11:45-19:45), players of the game (19:45-27:35) and the KUsports.com football mailbag — the "Siesta" ...
Sims accounted for five of KU's nine chunk-yardage passing plays (15-plus yards), with gains of 16, 26, 37, 57 and 60 yards on his biggest connections with new starting quarterback Carter Stanley. His 233 receiving yards were a personal best and the most by a KU receiver since Dezmon Briscoe had 242 yards against Missouri in 2009, the third-most in a single game in program history and the fifth-most in an FBS game this season.
Though Sims' individual impact exploded, it wasn't as if Meacham and company altered the game plan to involve the receiver.
"That's the focus every week," Sims said. "TCU, Iowa State, they played great games. They took me out of the game, I guess you could say that. … We came back to work this week and we wanted to score points and get our playmakers the ball, no matter if it was me, Book (Jeremiah Booker), Chase (Harrell), Evan Fairs, anybody. That was our game plan this week."
Although the K-State defense hasn't proven as staunch as its counterparts at Iowa State and TCU this season, Sims and the Kansas offense also benefited from the switch at QB to Stanley — instead of junior Peyton Bender, who started the first seven games of the season — and the return of first-string center Mesa Ribordy, who missed the previous two blowouts due to injury.
"Mesa'a a big difference. He's a leader on the O-line. He's real vocal and he gets those guys going," Sims said. "And so does Carter. Carter's real vocal and stuff. Those guys (Saturday), they helped us on offense a lot and they both played a great game."
Stanley also enjoyed a career day with Sims' help, going 23 for 48 for a career-best 418 yards, with one touchdown on a 60-yard strike to Sims and an interception on the game's final snap.
"Steven's an incredible player. You guys can see that. He's awesome," said Stanley, a redshirt sophomore. "And so dedicated to the game, so a very detailed route runner and obviously very talented. But I'm glad he's out there making plays for us."
Stanley, who entered the program at the same time as Sims, wasn't surprised to see the dynamic receiver react to back-to-back forgettable weeks with a breakout showing.
"Steven's one of those guys on this team — we've got a bunch of them — but Steven's one of those guys that comes to work every day regardless of results maybe a previous day or previous week," Stanley said. "Steven comes to work every day. Incredibly talented dude and his work ethic is at the top. I'm proud of him and the work he put in this week, and it showed."
In particular against K-State, Sims displayed his ability to run past defensive backs to generate big yards and momentum. Asked if that was the most he had seen Sims beat his competition deep, Stanley replied KU's leading receiver (32 catches, 637 yards, four touchdowns) does so at practice.
"We've seen it all," Stanley said. "(Sims' huge day) didn't even shock a bunch of guys on this team, because he's that type of player. Very dangerous with the ball in his hand."
Probably fun to throw to, as well?
"No doubt," KU's QB responded.
The Jayhawks (1-7 overall, 0-5 Big 12) will need Sims and Stanley clicking again this Saturday at Memorial Stadium against Baylor (0-8, 0-5).
"We're never going to give up," Sims said of how the KU offense responded this past week following consecutive scoreless, low-yardage beatings. "That's just not what we do. That's not the type of team we are. We're going to fight to the end."