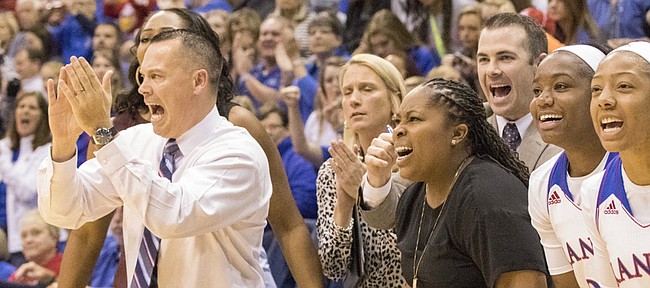 If you're looking for someone outside the KU women's basketball program qualified to speak on the team's progress, Emporia State head coach Jory Collins might be a good starting point.
Not only does Collins know Kansas coach Brandon Schneider well, having coached under him at the aforementioned MIAA school, he's also had the distinction of matching up against his former mentor in Schneider's first and third seasons with the Jayhawks.
"I don't know that it's coming as fast as he wants it to, but I know it's going to get there. There's just no doubt in my mind," Collins said of the program's progress. "I know what kind of coach he is and the caliber of coach that he is. And as soon as they can get healthy and get some people on the way, it's going to be really good for Kansas women's basketball."
That steady but modest progress was on display Sunday.
KU handled Emporia State by 20 points. KU's players looked bigger and stronger, leading to descriptors like "obviously, given the size there" and "especially given that caliber of athlete" when Collins spoke of his opponent after the game.
It was also a reminder Schneider is a ways removed from his starting point.
Schneider first faced his old team in Allen Fieldhouse two years ago. He was in his first year as coach with a roster largely made up of holdovers. Of that team, only three players who appeared in that game — Kylee Kopatich, Tyler Johnson and Chayla Cheadle — remain.
In that 2015 meeting, the Jayhawks struggled with the experience of Emporia State. Playing without any seniors on the roster, KU fell behind from the offset and trailed by as many as 11 points in the first half.
The Jayhawks trailed by one as the third quarter began. At multiple points in the fourth quarter, they saw their lead cut down to three. The Hornets were even able to attempt a 3-pointer to try and tie the game with less than six minutes to play.
"We're so young that we have a lot of room for growth," Schneider said after that game in 2015. "We still have a lot to learn. I still have a lot to learn about them and I think they're still learning about me every single day. As long as we continue to work together I hope that we can make a little bit of progress each and every day."
The 2017 performance would certainly mirror the climb, though this year is not without its setbacks.
The Jayhawks learned they would be without top-returner Jessica Washington when she tore her ACL in October. The team will apply for a waiver that could allow Washington to return for a sixth season — she redshirted in her second year of college basketball after transferring in from UNC — but cases like that are no guarantee.
On the recruiting front, Schneider has made progress, but after seeing three recruits commit to the program following Late Night in the Phog, two of them, including projected top-15 recruit Zay Green, decommitted.
But let's focus on the present.
For now, Schneider is focused on things like how junior college transfers Brianna Osorio, a combo guard like Washington, and Christalah Lyons, a pass-first point guard that Schneider hopes to be able to coax into a more take-charge scorer at times, will run things on the floor.
He has to figure out how to get Kopatich open looks without Washington to draw attention of opposing defenses and how to rotate a clustered group of bigs in a system that generally only features one playing at a time.
"We're going to make a lot of mistakes right now," Schneider said of working out the roles for new players. "We just hope those aren't effort mistakes."
Regardless, Schneider isn't without his supporters, among the loudest of whom resides some 70 miles to the southwest.
"He's just a terrific leader and terrific teacher of the game," Collins said of Schneider. "He's an ultimate competitor. It's going to be fun around here real quick."