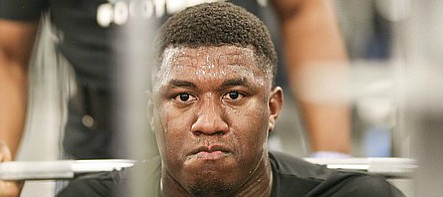 In explaining his well-meaning post-game tirade directed at some teammates not playing with enough passion, junior defensive tackle Daniel Wise just might have unwittingly exposed a deep-rooted flaw in the team's thinking.
"Some guys might not take it as serious … I'm not quite sure why," Wise said. "But we just try to not harp on it too much, but let them know, 'Hey, this is a game we're all trying to have a future in,' and just try to get them on the same page as we are."
Whoa! The cart is way ahead of the wagon there.
Nobody on a team coming off the lowest offensive production (21 yards vs. TCU) by an FBS school this century, a team outscored 118-0 in the past nine-and-a-half quarters, should be thinking about Sundays when they need to prove they are worthy of playing on Saturdays.
Podcast episode
On this episode of the KU Sports Hour, hosted by KU football beat writer Benton Smith, the KUsports.com staff discusses KU's 43-0 loss to TCU. Topics include: Ten horrible KU football statistics (open), comparing the teams of the post-Mangino era (starting at 19:25) and the KUsports.com football mailbag — cage ...
Wise is one of a small group of Jayhawks with the potential to reach the NFL, but if he thinks all of his teammates are trying to have a future in football, then he and they need to look at things more realistically.
Wise works hard year-round to grow stronger and improve his conditioning. He plays and practices with passion and is vocal in the meeting room and on game day. It's admirable that he's doing everything he can to give himself a shot at joining his brother Deatrich Wise of the New England Patriots as an NFL player. But if that's what motivates him to play on Saturday and he uses that to try to inspire teammates, that's not a team-first tactic that will result in bonding. It actually excludes those who know that they, like the vast majority of college football players, have no future in football beyond the uniform they wear. That uniform means everything to them, and they want to create great memories with their current teammates. They're using Kansas football to get a degree and to become part of something that a select few high school football players get to experience, trying to score upsets they'll savor for decades.
Trying to inspire teammates to play with more passion so they can chase an unrealistic goal isn't a team motivation, it's an individual one that badly misses the mark. Football's about carrying out assignments precisely, very often so that a teammate can make a play and get the glory. Playing Saturday while keeping one eye on Sunday isn't the right mindset. The focus must be 100 percent on the here and now, on playing for teammates and the uniform, not for a vague, distant and in most cases unrealistic goal.