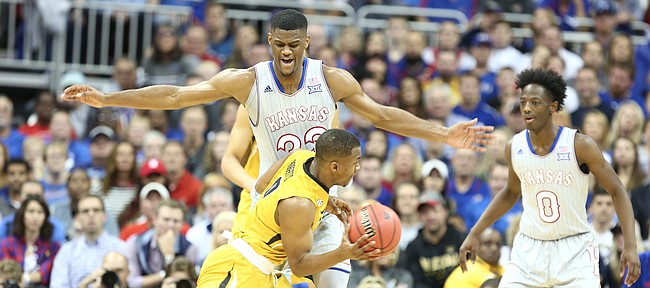 Kansas basketball coach Bill Self believes freshman forward Billy Preston could learn a thing or two about college basketball by watching former North Carolina star Tyler Hansbrough.
But not because the 6-foot-9, 250-pound Hansbrough reminds Self of his 6-10, 240-pound freshman in terms of skill set, body type or anything else. Instead, Self would like to see Preston tap into Hansbrough's mind to position him to make a couple of big jumps during his freshman season.
"When Hansbrough played, it wasn't that Hansbrough played harder than everybody every possession," said Self of the three-time All-American, 2008 national player of the year and 2009 NCAA champion. "That was not what made him. What made him is, you put your best guy playing as hard as he can and he takes two possessions off out of 10, Hansbrough wears him out on those two possessions because he was 10 for 10 every single time."
Still in the infant stages of his college career, Preston, who celebrated his 20th birthday on Thursday, is at the point where he still takes too many possessions off, according to Self.
"Billy's maybe one out of three, one out of four right now," Self said. "So if we get it up to one out of two the next couple weeks, maybe two out of three a couple weeks after that, I think we would've made some improvements."
In some ways, Preston's improvement already has surfaced. After playing in just three of four exhibition games in Italy this summer, to mixed reviews from his head coach, the former Oak Hill Academy standout proved to be a pleasant surprise during the Jayhawks' 93-87 exhibition victory over Missouri last Sunday in Kansas City, Mo.
Self said after the game that Preston played better than he expected, and he reiterated this week at Big 12 Media Day that Preston delivered more than he thought he would get.
The freshman forward, who throughout his career has proven to be as comfortable on the wing as he is down low, finished 4-of-5 from the floor for 12 points and four rebounds in 15 minutes. He also added a steal, an assist and five fouls and made all four of his free throws.
"You guys think he played better and was more consistent because he made shots," explained Self at Big 12 Media Day. "I think he also got exposed some, too."
Where exactly?
"When you don't hit somebody on the block out, a guy dunks it on top of your head, stuff like that," Self said. "But I thought he did well. I thought it was a good first step. But it was a baby step."
According to teammates, the most important area in which Preston can accelerate his development and help the team is by embracing what his size and frame can do for this team inside.
As deep as ever on the perimeter, with five talented guards and one waiting in the wings, the key to the Jayhawks' season might be tied directly to what they get in the paint. Having 7-foot sophomore Udoka Azubuike in there as the top dog is a good place to start, but Kansas also will need strong contributions from Preston and sophomore Mitch Lightfoot throughout the season.
"He's got to develop (better) habits," Self said. "His habits are not the best right now. He can do it. But Billy's a skilled four man, so the last thing he wants to do is be the physical presence, so to speak. We don't really have a physical presence like we had last year. Landen (Lucas) was obviously tough, but Josh (Jackson) gave us a presence that we don't have right now. Billy's not going to be able to do that early in his career, but I do think he'll benefit from having a big (like Azubuike) around him."
As for those times when Azubuike is forced to sit and Preston is on the floor as the team's only big man, senior point guard Devonté Graham said he already was "real comfortable" with Preston holding down that role.
"Now he's got to get more comfortable with it, you know," Graham said this week. "He's not used to being at the center position, but, with our team and what we need, he's just got to buy into it, and I think he'll be real comfortable come conference play."
Preston and the Jayhawks open up their exhibition season at home at 7 p.m. Tuesday against Pittsburg State at Allen Fieldhouse.