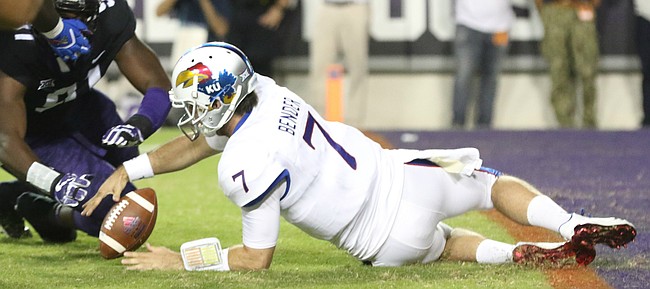 No one associated with the Kansas football team's backsliding offense is taking lightly back-to-back shutouts, featuring a combined 127 total yards. The tricky part currently is putting the consecutive misadventures permanently behind them.
"Look forward and kind of draw a line in the sand. Enough's enough," KU offensive coordinator Doug Meacham said of his message to players this week. "That type of thing. And just try to press ahead the best you can, not dwell on what happened."
In one way, Meacham explained, this week's preparation for rival Kansas State will be no different from any other, despite the recent barren results.
"It's always the same. You take the video and see what you're deficient at and try to improve on it that week. And just try to find ways to get your guys the ball. And then find ways to protect within the scheme," the first-year KU coordinator said.
Podcast episode
On this episode of the KU Sports Hour, hosted by KU football beat writer Benton Smith, the KUsports.com staff discusses KU's 43-0 loss to TCU. Topics include: Ten horrible KU football statistics (open), comparing the teams of the post-Mangino era (starting at 19:25) and the KUsports.com football mailbag — cage ...
These past several days have deviated from some weeks, though, due to the number of fires Mecham, head coach David Beaty and other members of the staff have to put out before the Wildcats (3-4 overall, 1-3 Big 12) show up Saturday at Memorial Stadium (2 p.m. kickoff, FOX Sports 1).
For starters, Kansas (1-6, 0-4) is reeling along the offensive line due to the absence of No. 1 center Mesa Ribordy, a game-time decision for the upcoming rivalry game. KU tried Jacob Bragg at center at Iowa State and Zach Hannon there at TCU, but the O-line each week lacked the cohesion it flashed earlier in the year, before Ribordy's undisclosed injury.
Meacham didn't use Ribordy's unavailability as an excuse, but admitted it is difficult for the offense to produce up to his standards when the coaches are shuffling players up front.
"Yeah, I mean it's hard. Hard to do things," Meacham said, with a wry laugh, before confirming the coaches continue their mixing and matching on the O-line in an attempt to find a combination that clicks.
With Hannon at center instead of right tackle, Hakeem Adeniji over in Hannon's usual spot and Clyde McCauley III making his first start of the season at left tackle, Kansas rushed for a gut-wrenching minus-25 yards at TCU. A reporter asked Meacham whether the issues on the line made it impossible for a running back to succeed.
"I don't know how to answer that question," Meacham replied, "because if I say, 'Yes, it's impossible,' well, were we giving up? No. It's not impossible."
Then there is the matter of starting quarterback Peyton Bender's slump. The junior transfer went 8-for-19 for 18 yards, with an interception, at ISU, and followed that up at TCU with a 7-for-16 outing that netted 38 yards through the air.
Still, Meacham stated Bender's lack of production hasn't forced him to look harder at moving redshirt sophomore Carter Stanley up the depth chart.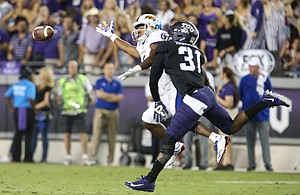 "Not really. Not really," he repeated.
KU's Air Raid coordinator remained confident in the team's ability to get Bender back on track, despite the O-line's struggles.
"You've got to move him around in the pocket a little bit, change the launch point some," Meacham said. "The tough part of it is when it's third-and-15. I guess we can run the draw and punt every time and not take a sack. But you've got to take your shots if you can. Unfortunately we're backed up and having to take a shot and everybody in the stadium knows you're throwing it. And (TCU is) pretty good. We've got to do a better job on first down and just run the football and stay between the sticks."
Bender said KU's offensive players know what they have displayed the past couple of weeks is "not acceptable." The quarterback also realizes the focus placed on him.
"Coach says it's a competition every week, so every week we go in and we compete to the best of our ability in practice. That's the same way I'm going to approach it this week," Bender said, "just go in here and compete as hard as I can."
It's up to Meacham to maximize whatever lineups KU is able to put on the field against Kansas State. He, like many, is frustrated with the nonexistent offense of late. But Meacham said back-to-back shutouts haven't led him to reach out to a former colleague or mentor to vent or spitball solutions.
"No, I'm a little internal when it comes to this moment," he said. "I don't really need to talk to anybody about what's going on with where I'm at. I mean, I know what's going on where I'm at. I think the best thing how to approach it is just do everything you can to win the next one, because that's the most important one."
It's the hope of Meacham and his players the recent unpleasantries are behind them.
"Yeah, it's out of my system. As cliche as it sounds, you know, this is a great opportunity to get a win and make everything feel a hell of a lot better," he said. "So we're just kind of focused on that more so than what had happened."