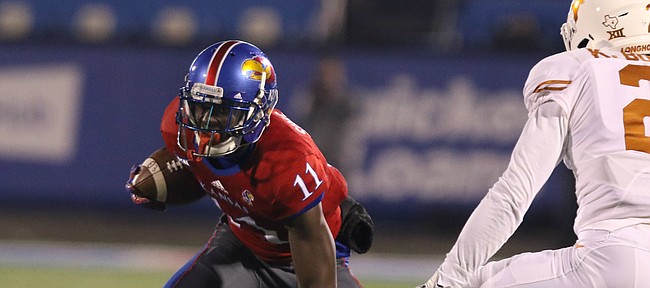 For the Kansas football fan who likes to plan ahead, the program on Thursday, with five games remaining in 2017, unveiled its official 2018 schedule, which includes a holiday weekend twist.
The Jayhawks will conclude next season at home, not on a Saturday, but on Black Friday, when they play host to Texas the day after Thanksgiving.
KU's calendar a year from now calls for the rebuilding program to play six games at home and six on the road.
It all begins Labor Day weekend, with an opener versus FCS opponent Nicholls State (Sept. 1) at Memorial Stadium.
Podcast episode
On this episode of the KU Sports Hour, hosted by KU football beat writer Benton Smith, the KUsports.com staff discusses KU's 43-0 loss to TCU. Topics include: Ten horrible KU football statistics (open), comparing the teams of the post-Mangino era (starting at 19:25) and the KUsports.com football mailbag — cage ...
KU travels in Week 2 to Central Michigan (Sept. 8) and wraps up the non-conference portion of the schedule back at home, versus Rutgers (Sept. 15), marking the program's first home game against a Big Ten opponent since Kansas lost to Northwestern in 2003.
Though the current season provided Kansas with five home Big 12 dates and four on the road, 2018 will fall the opposite direction, with five conference road games and four in Lawrence.
KU will begin league play at Baylor (Sept. 22) before playing its Big 12 home opener versus Oklahoma State (Sept. 29). The Jayhawks are right back on the road the following weekend, at West Virginia (Oct. 6).
Following an Oct. 13 bye, Kansas travels to Texas Tech (Oct. 20). The Jayhawks then have their first home game in four weeks, when TCU visits Memorial Stadium (Oct. 27).
The final month of the 2018 season commences with a home game versus Iowa State (Nov. 3), before KU spends the next two weeks out of town, at Kansas State (Nov. 10) and at Oklahoma (Nov. 17).
The season concludes at Memorial Stadium on Black Friday, with the Longhorns' visit to Lawrence (Nov. 23).
The 2018 season will mark the eighth year in a row that Big 12 teams play a round-robin schedule. It will be the second season for the return of the Big 12 Championship Game, scheduled for Dec. 1 at AT & T Stadium, in Arlington, Texas, site of the league title game through 2021.
Dates on KU's 2018 football schedule are subject to change to accommodate television partners' requests. Decisions regarding television and game times for the first three weeks of the season, as well as any further special dates (any potential move to a Thursday for TV purposes) will be announced this coming July.
KU FOOTBALL 2018 SCHEDULE
Sept. 1 — vs. Nicholls State
Sept. 8 — at Central Michigan
Sept. 15 — vs. Rutgers
Sept. 22 — at Baylor
Sept. 29 — vs. Oklahoma State
Oct. 6 — at West Virginia
Oct. 20 — at Texas Tech
Oct. 27 — vs. TCU
Nov. 3 — vs. Iowa State
Nov. 10 — at Kansas State
Nov. 17 — at Oklahoma
Nov. 23 — vs. Texas
More like this story on KUsports.com