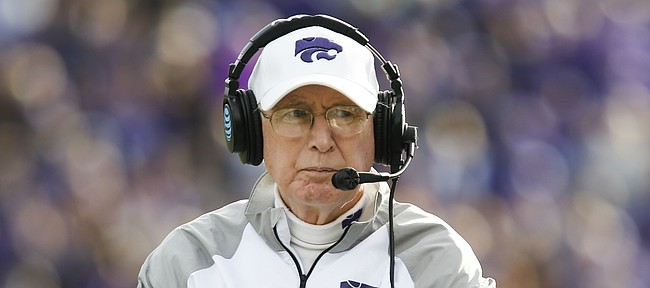 Back in 1989, Bill Snyder inherited a Kansas State football program that had won three or fewer games in 12 of the previous 14 seasons under his three predecessors. The Wildcats, at that point, had played in one bowl game in their history.
Given Snyder's familiarity with taking on a job that looked dire, the K-State coaching legend, who has gone 205-109-1 and led the Wildcats to 18 bowl games since, was asked at his weekly press conference whether the current situation at Kansas reminded him at all of what he took on in Manhattan.
Though Snyder, now in his 26th season at K-State, initially replied he hadn't thought about it or paid attention to the state of KU football "in that realm," he went on to give his opinion on the matter.
"I don't know that there's any program that has been or will be in the situation that was at Kansas State at that particular time," Snyder said. "Once again, Kansas has had some success in the past. They're not the losing-est program in the history of college football and all that goes along with it. They're going through some difficult times right now, but it's not as though — no, they're not where we were, I don't think."
Podcast episode
On this episode of the KU Sports Hour, hosted by KU football beat writer Benton Smith, the KUsports.com staff discusses KU's 43-0 loss to TCU. Topics include: Ten horrible KU football statistics (open), comparing the teams of the post-Mangino era (starting at 19:25) and the KUsports.com football mailbag — cage ...
Since KU forced former head coach Mark Mangino out in 2009, the program has won three or fewer games every season, under head coaches Turner Gill, Charlie Weis, David Beaty and interim Clint Bowen (1-7, in 2014).
Headed into Saturday's Sunflower Showdown at Memorial Stadium (2 p.m., FOX Sports 1), versus Snyder's Wildcats (3-4 overall, 1-3 Big 12), the Jayhawks are 1-6 on the season, bringing the program's record in the post-Mangino era — spanning seven-plus seasons — to 15-76.
Snyder went 1-10 in his first season as a head coach at K-State, in 1989, before going 5-6 in his second year, 7-4 in his third, 5-6 in his fourth and 9-2-1 in a breakout 1993 season. His teams have finished below .500 just three times since, with Snyder's worst season to date coming in 2004's 4-7 campaign.
Snyder is 21-4 all-time versus Kansas, and 9-3 at Memorial Stadium.
Wildcats' perspective on rivalry game
Although KU (0-4 Big 12) enters its annual rivalry meeting with K-State coming off six consecutive losses and back-to-back non-competitive shutouts, Snyder isn't worried about his Wildcats overlooking KU.
"If I have to motivate them to play any team, then we've got some problems. There's 365 days in a year and you get to play the game 12, and if you're fortunate, 13 times. That's 13 out of 365 days that you really get to do a thing that you love doing. That, to me, ought to be the motivation to do it," Snyder said.
What's more, K-State has 49 players on its roster from the Sunflower State, so Snyder said the matchup "automatically" means something special to them.
"Guys from out of state," Snyder added, "they treat it as another game. But hopefully the motivation of another game means we need to be motivated to play as well as we possibly can. But, if you're not from in state, be there for your teammates that are from in state because this is something they live with year in and year out, as much as anybody can. Aside from that, it just goes back to the same thing – to me, it's not about the University of Kansas, it's still about Kansas State. We have to do all we can to become a better football team, become better than we are and make improvements."
The Kansas roster features 23 in-state players.
Importance of showdown for KU
At Beaty's press conference this week, he also referenced the importance of the rivalry series.
"Our people that are on our football team, the people inside our department, our university, all of our stakeholders, all of our fans, all of our former students, former players, it has a lot of meaning," KU's third-year head coach said of the Sunflower Showdown. "This is one of those games where you can have an opportunity to make yourself a household name. One game has the potential to do that. It's something that we don't take lightly."
Beaty said Tuesday's team meeting began with him taking measures to ensure all the Jayhawks understand "the levity of the rivalry game," especially those players less familiar with it.
"We really don't have to do a lot, but it's important for me to educate our guys, particularly our young guys, because we have a lot of young guys on this team that are playing," Beaty added, saying he wants them to make the rivalry "part of their fabric."
"It's one of those games that can change the whole year for you," he reiterated, "and for us, getting that first one in conference is a big, big deal. But getting it against Kansas State would be a huge shot in the arm for us."
More like this story on KUsports.com