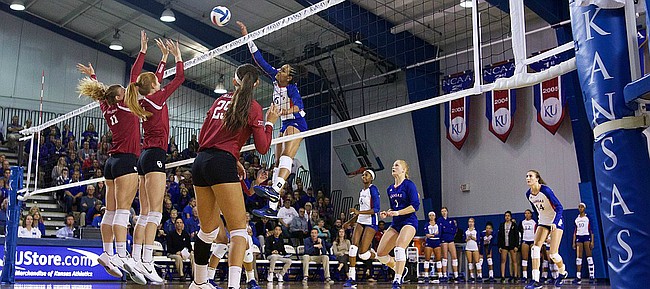 Ray Bechard couldn't hide his emotions.
As he walked to the media tables following No. 11 KU volleyball's match against Oklahoma, the coach's eyes were fixed on the floor. He shook his head, wearing an expression bordering on despondence. What he saw was unacceptable.
"Got outplayed. Got outhustled. Got outworked," Bechard said of his team's win — yes, win — over the Sooners in five sets (22-25, 25-20, 25-17, 22-25, 15-13). "So, yeah. I'm frustrated. You can tell."
In what was essentially an opening statement, Bechard called the Jayhawks "fortunate," "fortunate" (again) and "very, very fortunate" to win.
OU came into Horejsi Arena at 5-16 on the season. The Sooners were 2-6 in Big 12 play. The Jayhawks (19-3, 8-1) were ranked No. 11 in the nation. They had only lost one Big 12 match on the year and four dating back to the start of 2015.
"It's a reflection of how we've been practicing to be honest with you. We come back from Baylor and I thought we got a little full of ourselves," Bechard said. "We didn't have to play hard (in the last match) against Texas Tech. Nothing against Texas Tech. But we can play at a certain level and be fine. Tonight that wasn't the case."
If there was a moment Bechard could pinpoint to be happy with, it came in the fourth set.
Playing without any semblance of energy — the loudest shouts came from OU's Alyssa Enneking — the Jayhawks fell behind 24-13 and were set to face 11 straight match points.
With their backs against a wall, something changed.
The run started with an OU service error. Then a block by Zoe Hill and Kelsie Payne. Then a kill, an attack error, ace, attack error, kill and on and on.
KU took nine straight points, improbably cutting the lead to 24-22. The Jayhawks would eventually lose the set but received a standing ovation from the crowd simply for, well, trying.
"That doesn't happen very often that the crowd claps for you after you lose," said Payne.
"I was just astounded that our fanbase is that dedicated and willing to cheer for us," added Tori Miller, who served for the bulk of the 9-0 run.
Ultimately, the Jayhawks had just enough to get the win.
Payne came away with 14 kills, inching closer to the top mark in program history.
Madison Rigdon tallied 14 kills on 66 swings — way too many, noted Bechard — and 13 digs. Ainise Havili totaled 49 assists, though she was actually outshined in that stat by OU's Audrey Alford, who came up with 52.
Jada Burse (13 kills) and Zoe Hill (10 blocks) had their moments, as did Allie Nelson (18 digs), but it wasn't about any one individual.
The Jayhawks were lethargic for several stretches and put forth an effort probably lackluster enough to lose to a majority of the teams in the league. That was where Bechard hoped his players learned a lesson, one Payne echoed after the match.
"It reflects on us when another team is working harder than us," Payne said. "There's no reason we can't play as hard as they're playing."