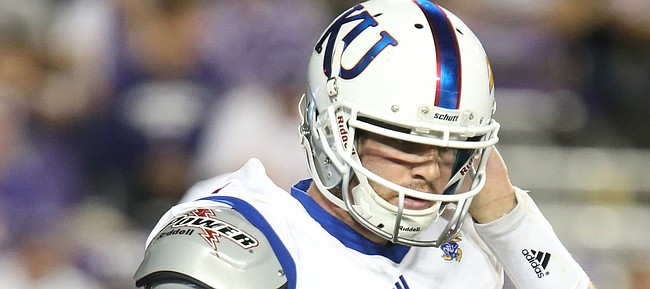 In back-to-back wretched showings by the Kansas football offense, the passing game collapsed.
Over the course of the previous eight quarters, in shutout road beatings at Iowa State and TCU, the Jayhawks moved the ball just 90 yards through the air.
Asked Tuesday at his weekly press conference whether the struggles of starting quarterback Peyton Bender (15-for-35 passing, 56 yards, with one interception over the past two weeks) have led him to reevaluate who plays quarterback, head coach David Beaty gave no indication of an impending change on the depth chart.
"You know, whenever you're not having success, whether it's offense, defense, special teams, you always are evaluating, right, and I've said it from the very beginning, you're only as good as your next, and that's true competition. I'm not sure many people articulate it that way, but that's the way this game works," Beaty began. "You have to produce. It's a production business, right, for all of us. No different for each one of our individual players."
Podcast episode
On this episode of the KU Sports Hour, hosted by KU football beat writer Benton Smith, the KUsports.com staff discusses KU's 43-0 loss to TCU. Topics include: Ten horrible KU football statistics (open), comparing the teams of the post-Mangino era (starting at 19:25) and the KUsports.com football mailbag — cage ...
Still, Beaty didn't mention backup QB Carter Stanley in the conversation, other than referencing that KU has confidence in its quarterbacks.
"I look back and there's some things I'm sure that Peyton may have wanted back, but I do know this, that there was not a whole lot of time to get rid of the ball the other night," KU's coach went on, "and credit TCU's defensive line and their defense. They did a nice job getting pressure on us. They've done a nice job getting pressure on just about everybody. They're pretty talented."
Beaty often over the past couple of weeks has referenced how much the Kansas offense misses starting center Mesa Ribordy, who missed back-to-back shutouts due to injury and is a game-time decision for Saturday's rivalry game with Kansas State (3-4 overall, 1-3 Big 12) at Memorial Stadium (2 p.m. kickoff, FOX Sports 1). The third-year KU head coach again referenced the offensive line's struggles while discussing Bender's play, saying "sometimes it's hard to tell what maybe a guy is capable of until you can keep him upright in the back, because the guy is a really talented guy."
Video review of the unpleasant offensive display, Beaty added, shows Bender hasn't been the only one to blame.
"It's not just the quarterback, it's the guys up front making sure we get the right gel, the right mix there, continuing to improve. They're not going to let you go sign a couple before this next game, so you've got what you've got, you've got to develop them," the KU coach said. "And the same thing with the wideouts. We've got to do a great job of spacing properly, getting off the ball quick enough, making sure that we're not getting held up on man-to-man coverage. Those things all go into the success of what you're doing offensively."
In conclusion, Beaty stated coaches are "always evaluating" the personnel at every position, not just at quarterback.
Why the running clock?
Some disorder in Fort Worth, Texas, this past Saturday night led to referee Mike Defee announcing "significant weather" headed toward the area meant the final 12:49 of the KU-TCU game would be played with a running clock.
Beaty later said he never agreed to such a scenario, and added Tuesday he hadn't received any clarification on the matter from the Big 12 since.
"But I really haven't given it much thought," he said. "I think the reason I haven't given it much thought is they got it right. You know, regardless of what the confusion was, there was not a whole lot of time, if any, that really ran off the clock. Obviously I was a little confused on what was being said there early in the deal, but they fixed it fairly quickly, and the main thing was that they got it right."
KU's coach then suggested further questions on what transpired should be directed to the conference office.
Edward Stewart, Big 12 senior associate commissioner for football, provided the following statement to the Lawrence Journal-World:
"Radar indicated the high potential of severe weather approaching the stadium sometime in the fourth quarter. Unfortunately, in an effort to try to complete the game before the storm's onset there was a communications breakdown with game officials, clock operators and television, which resulted in the clock running when it should not have. As NCAA Football Playing Rules do not allow a running game clock, we were able to intervene from the Big 12 command center to correct the error and the game resumed with normal timing rules."
Still no Neal
KU's starting nickelback in the first four games of the season, senior Derrick Neal hasn't been seen on the sidelines at all in the past three games.
Asked for an update on Neal's status, Beaty said the 5-foot-11 senior from Dallas currently isn't with the team.
"He's got a daughter, and he's taking care of her," the coach said of Neal's whereabouts. "He's kind of taken a little bit of a leave. He's taking care of her right now, and we certainly support him in that. He's a good father, and he's a good man, and hopefully everything there is going to stabilize for him and he can rejoin us, and hopefully he can."