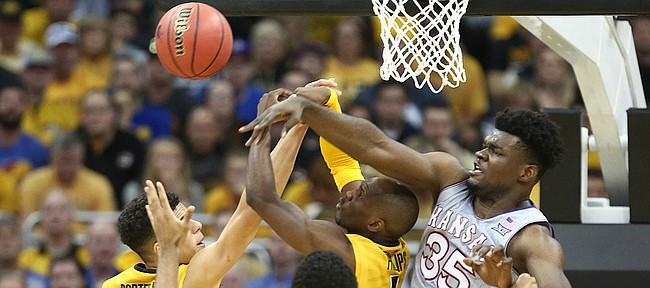 KANSAS CITY, MO. — Kansas basketball coach Bill Self knows that sophomore center Udoka Azubuike is one of the most important players on this year's team for what he brings to the table on both the offensive and defensive ends of the floor.
Self also hopes the 2017-18 season is the last time he has to think about how the 7-foot sophomore from Nigeria fits into his lineup.
"I hope it is his last year if he can go (pro) and be guaranteed to be a first-round pick," Self said Tuesday during Big 12 media day at Sprint Center. "I think right now, if you look, he's not on the (NBA Draft) boards right now. If he can get to that point then I think he should consider going. But if he can't get to that point I don't think there's any question he should return. But I think personally he's good enough to get to that point."
Photo Gallery
Kansas basketball at Big 12 Media Day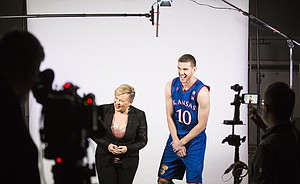 View a gallery of images from Big 12 Media Day at Sprint Center.
With big men Silvio De Sousa (6-9, 245) and David McCormack (6-10, 255) already committed in the 2018 recruiting class, Self's Jayhawks would be fine up front with or without Azubuike returning for the 2018-19 season.
Keeping him in the fold, obviously, would give Kansas a monster front line that would have the potential to be as big and bad as any in college basketball. But even without him, plugging those two explosive and athletic big men into the Kansas front court would ease the pain of losing a player of Azubuike's physical stature.
As for the 7-footer's playing prowess, that part remains to be seen and will be a defining factor in just how good the 2017-18 Jayhawks can be.
"He's not gonna be a finished product this year or next year, probably," said Self, noting the impact of the wrist injury that kept Azubuike on the bench for 25 of the team's 36 games a season ago. "I think he'd be a lot better. He could catch up. Hopefully he'll catch up this year. I thought, last year, if he had played the whole year, he was gonna be a 15-to-20-minutes-a-game guy and play in games with the pressure and things like that. … It's gonna take some time. He's gonna have his good moments, but he'll have his bad moments, too."
FBI chatter
Asked again about the FBI investigation into college basketball that has rocked the sport and created a ripple effect felt in all corners of the country, Self on Tuesday reiterated what he and many others have said about the both the present and future of the game.
"Sad, dark cloud. A lot of people have said the same things," he said. "I, personally, don't think it's a true indication of where our sport is. But I do think it's very evident that the culture in which we operate needs to be tweaked or changed, maybe even drastically in some ways. … I do think that there can be some positive that can come out of this over time. Of course, who knows if time's going to be one year or five years, but I do think there'll be some positives that'll come out of it. But I think there'll have to be some serious changes made."
As has been the case each time a representative from the university has been asked about the investigation in the past month, Self said KU had not been contacted by federal investigators.
"Not to my knowledge, no," he said. "Not at all. Surely I would know if we have, but no."
Outlook for 2017-18
With the start of the regular season now less than three weeks away, Self on Tuesday offered a quick overview of where his team stood entering the home stretch of their preparations.
By far, Self's biggest concern about this year's team is the depth inside. Asked Tuesday what level of concern he had for the team's depth as a whole, Self said, "A lot," before explaining the answer.
"You know, we played eight guys the other day (vs. Missouri) because we only have eight guys on scholarship that are eligible to play," he said. "So we have four guys sitting out. So, yes, I'm concerned. We get one more at Christmas (transfer guard Sam Cunliffe), but primarily concerned inside. An injury or major foul problems can obviously put you behind the eight ball, not only for one game but for the long term. So that is a major concern. Last year, obviously we were very thin up front as well after Udoka went down, and this year I'm not sure that we could sustain another injury like that and still have a chance to have a great season."
All-American wanted
Self has not been shy about stating the importance senior point guard Devonte' Graham will have for this year's team. And he was at it again on Tuesday.
"In order for us to be really, really good, he has to play at an All-American type level for us," Self said of Graham. "And we think he's very capable of doing that and certainly he's got the personality that will certainly draw people to him by watching him play."
Hit the glass
Self's Jayhawks were out-rebounded by four during last weekend's exhibition game against Missouri and, with last year's top two leading rebounders (Landen Lucas and Josh Jackson) no longer on the team, the KU coach emphasized the importance of getting to the glass as a team this season.
Graham snagged 10 rebounds in that exhibition victory, as many as KU's three big men combined.
But while Self believes, on most occasions, that the Kansas front court will grab more rebounds and Graham will snag fewer, the player that he wants to see improve the most in that department is junior Lagerald Vick.
"He and Svi have to be better rebounders," Self said. "They are big and athletic guards, tough enough to get in there and battle. I don't think he (Vick) goes like he should go. He has potential to be a much better rebounder."