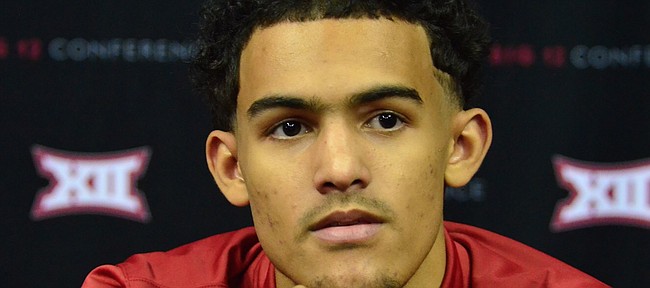 KANSAS CITY, Mo. — Bill Self has gotten the call many times — too many for one to stick out among the rest.
Within those experiences, though, he's found one thing to be true. It isn't the content of the call — "How can it be positive when somebody just breaks up with you?" Self joked at Tuesday's Big 12 Media Day — but the person behind it who makes the difference.
"So many times a parent will call for them, text, maybe not even tell them," Self said. "How many kids now pick a school and the way you find out is watching it on TV?"
In that regard, Trae Young is the exception, not the rule.
Young, a native of Norman, Oklahoma, was recruited heavily by the KU staff starting early in his high school career.
His final decision, as he recalled, came down to two schools: one offering him the chance to play for an elite program and the other offering him a chance to stay home and become a local legend.
"(The coaches) definitely wanted him to come," said guard Devonté Graham.
"We were all invested in that one," Self agreed.
Young made several trips to Kansas throughout his recruitment.
The five-star prospect visited KU for a 90-84 overtime win over Kentucky. He called it one of the "craziest games" he'd ever been to.
Another that certainly made the list came about three-and-a-half weeks earlier. Young visited Lawrence for the Jayhawks' triple overtime win against Oklahoma, a rare No. 1 vs. No. 1 matchup that saw then-senior Buddy Hield erupt for 46 points, 8 rebounds and 7 assists.
Young also made an official visit last season for homecoming weekend when the KU football team lost 44-20 to Oklahoma State. Graham and Malik Newman played host to their potential successor on the trip, which they said went well. The coaches pulled out all the stops on the visit, even showing highlights of Young's father, Rayford, dropping 41 points in an upset win over the Jayhawks when he was at Texas Tech.
"I just heard so many stories about playing in Lawrence," Young said. "I can't wait for this year to actually be on that court."
But as familiar as he made himself with Lawrence, Young's tie to Norman was even stronger.
Young grew up a fan of the Sooners and made several visits to the OU campus. He also felt a tie with coach Lon Kruger, who made Oklahoma feel like "family" and could relate to the guard with his own basketball experience.
"With him doing what he did as a player at my position in the Big 8," Young said, "that's something I wanted to take full advantage of."
When it was finally time to make his decision, Young got on the phone and made a call to Self.
Given the two's relationship, Young said it was "probably the toughest call that I've had to make to any coach," but it was one that his KU counterpart appreciated.
"The thing that I respected most about Trae was he picked up the phone and he did it," Self said. "And I knew it was uncomfortable for him to do. That's what I respect most."
Now, the focus shifts to the season.
Young enters the year with lofty goals, which shouldn't be surprising for a player of his caliber. Among them, he noted, was finding a way to end KU's Big 12 streak. The Sooners were picked to finish sixth in the conference by the coaches.
"This is the year they can break the record, and so what a feeling it would be like to break that streak," Young said. "We've got a long way to go to have an opportunity to do that, but that's one of my steps, to win the Big 12. And to win the Big 12, you've got to go through Lawrence."
As for that trip to Allen Fieldhouse, Young might encounter a hostile crowd, a byproduct of KU's second-place finish in his recruitment.
Graham said he didn't expect the crowd to get on Young too much, since he just made the decision to stay home. Young, on the other hand, wasn't so sure.
"I don't know if they'll boo me," Young said. "We'll see how the fans are feeling that day."