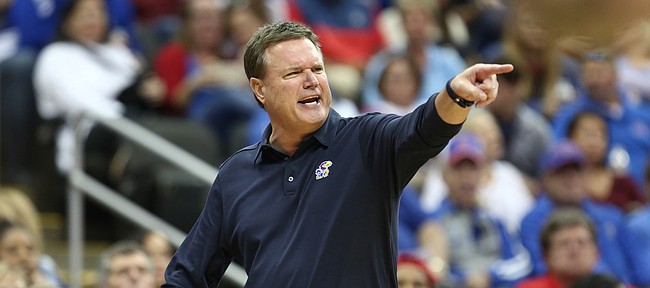 There was one thing Kansas coach Bill Self liked most about his team's 93-87 victory over Missouri during Sunday's Showdown for Relief at Sprint Center.
And it was not the final score or the $1.75 million dollars the two programs raised for hurricane relief.
Instead, the veteran Kansas coach who is set to begin his 15th season in charge of the program walked away thrilled that his team got tested and had enough bad moments to put on film.
"I think the things that we've been telling them that we're deficient at, now they'll believe," Self said after KU's high-energy victory. "A lot of teams go into the season with a false sense of who you are. And we've certainly done that many times. And maybe (most) exhibition games won't show you, but (Sunday vs. MU) exposed us in some ways. I think it's gonna be easier to show guys tape and learn from it, playing against a quality opponent like Missouri."
The numbers certainly were not all bad. Kansas shot 52 percent from the floor, turned it over just 12 times — a terrific number for the first game out in a highly emotional atmosphere — and swiped 11 steals and blocked eight shots.
But there were enough areas where the Jayhawks looked like a team very much still finding its way through the preseason that will allow Self to emphasize improvement in the coming weeks.
The biggest, perhaps, was rebounding, where the Jayhawks were out-rebounded by the Tigers, 41-37, and saw senior point guard Devonte' Graham grab as many rebounds (10) as all three KU big men combined — Udoka Azubuike (4), Billy Preston (4) and Mitch Lightfoot (2).
"A lot of things that we learned we've been saying all along," Self said. "We're not a good rebounding team at all. And we gotta do it by committee. I thought Missouri out-scrapped us early, especially the first half, and so that's something that we can control ourselves."
Beyond that, the Jayhawks often settled for 3-point jumpers — guarded or otherwise — instead of flashing the kind of quick and decisive ball movement that Self preaches and has been a staple of the Kansas offense for the past couple of decades.
KU recorded 16 assists on 31 made shots and endured half of its lineup finishing with one assist or less in the victory.
"Atmosphere is what taught me the most because that's not how we try to play," said Self of his team possibly getting caught up in the anything-you-can-do-I-can-do-better moments of Sunday's scrimmage. "The ball never got to the second or third side, it wasn't crisp and I think the atmosphere creates a little bit of tightness, which was probably good for our guys to play through."
That was the exact feeling for Graham, who shined in his unofficial debut as the clear-cut leader of this Kansas team. The point guard from Raleigh, N.C., who played second fiddle to Frank Mason III during the past two seasons, showed beyond a shadow of a doubt that he is more than capable of sliding into that lead dog role for this year's team.
Graham won't hit 6-of-13 shots from 3-point range every game. And he probably won't reach 25 points or grab double-digit rebounds very often this season. But it was more how Graham performed on Sunday and the fact that his teammates happily followed him than the numbers he produced.
"There were a lot of things that I didn't think we did great," Self said. "But I did think we competed in the second half, which was probably the most positive thing."
Added Graham: "It felt good to be back on the court. We've been in practice for a couple weeks now, beating up on each other and it felt good to finally be able to play against somebody else and just see what we've been working on and things that we need to improve."
With the emotional, adrenaline-filled Border War revival now behind them, the Jayhawks return to the practice gym in preparation for their second of three exhibition games, 7 p.m. Oct. 31 vs. Pittsburg State at Allen Fieldhouse.
The Jayhawks open the regular season Nov. 10 vs. Tennessee State at home.
• BORDER WAR QUIZ: Test your knowledge of Border Wars past and enter to win a $25 Visa gift card.
• KU-MIZZOU TRIVIA: How much do you know about the history of KU's biggest rivalry? Take this quiz to find out and enter to win a $25 Visa gift card.
— See what people were saying about the game during KUsports.com's live coverage.
---
More news and notes from Kansas vs. Missouri