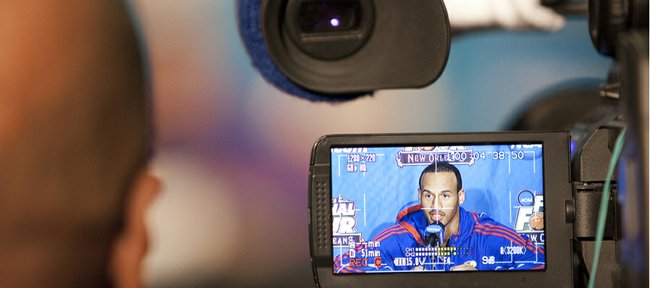 Officials at KU said the option of televising Sunday's Border War clash was still on the table and details were being examined to see if it was possible.
As of 5 p.m. Thursday, no announcement had been made one way or the other.
Initially, broadcasting the game on TV was kept out of the picture because both sides wanted to make sure Sprint Center was sold out, ensuring as much money as possible for hurricane relief.
With that goal reached earlier this week, the idea of showing the game on television in some form or another became an important topic because of the potential to raise even more money through the broadcast.
Podcast episode
On this episode of the KU Sports Hour, hosted by KU basketball beat writer Matt Tait, the KUsports.com staff talks about the resurgence of the Border War, dubbed the "Showdown for Relief." Topics include: should this game be happening? (4:30-15:10), how seriously will everyone take it? (15:10-29:15), Border War memories ...
Podcast episode
Kansas basketball coach Bill Self talks about Sunday's exhibition game against Missouri (players will be allowed seven fouls), how the team looks after several practices and what he hopes to see from his squad.
"If you say there's gonna be TV, it may not sell out," Self said. "After it sold out, of course there's been discussions about television and I know Kansas, positively, is willing to do whatever we can to make sure there's some form of television involved. I can't speak for Missouri (or) if they're willing to do the same thing.
"But the way that there will be television will be only if the proceeds go to the hurricane relief, not for advertisers to make money. That's the way it's going to be, that's how we got it approved with the NCAA, that's what they agreed to allow us to do when we made the proposal and we're not gonna deviate from that."

Options include but are not limited to live streaming, pay-per-view, a shared broadcast or any number of other ways to get more eyes on the game and more money into the hurricane relief funds.
For a good cause
While announcing the game last Friday during KU's annual media day, KU coach Bill Self emphasized to reporters that the only reason KU and MU were playing again was because of the opportunity to raise a ton of money for people in need.
Self said Sunday's exhibition contest would not change in any way how he felt about scheduling Mizzou in the future. And he revisited the topic on Thursday.
"I can't reiterate that enough," Self said. "People have said that Kansas is giving in because somebody's been snipping at their heels, but (that) has nothing to do with anything. This won't have anything to do with moving forward in that regard. There's nobody that Missouri could've played and raised more money than Kansas. And there's nobody that Kansas could've played and raised more money than Missouri. So, if your goal is to raise money, why wouldn't you try to raise as much as you possibly can?"
Rule tweak
Self said Thursday that he and his team would view Sunday's showdown as exactly what it is — a game.
His hope is that it will look better than the annual Late Night scrimmage and he believes his team won't look anything close to what it will be when Big 12 play rolls around, but neither will be because the Jayhawks are just out there having fun.
They want to play well, they want to win and they want to put on a good show for those who paid a lot of money to attend.
To that end, Self said the game would be played with one small tweak of normal rules.
"It's an exhibition game, just as it's been described," Self said. "Played with uniforms, a regular ball and NCAA rules, for the most part. I think everybody's gonna get seven fouls instead of five because we only have eight (players) and they only have nine. And we didn't think that would be in the best interest of fans paying a lot of money to come and watch Udoka (Azubuike) or Michael Porter get three fouls in the first seven minutes."
Transfers are not eligible to play.
Preseason polls
Thursday delivered some high praise for a Kansas program looking to embark upon its run to a record 14th consecutive Big 12 regular season title, as the Jayhawks, once again, were a unanimous pick by the Big 12 coaches as the preseason favorite to win the conference.
KU picked up 81 points and all nine available first-place votes. West Virginia, which finished with 71 points and earned Self's vote, since coaches are not allowed to vote for their own team, finished second, rounded out by TCU (64), Texas (49), Baylor (47), Oklahoma (43), Texas Tech (36), Kansas State (27), Iowa State (22) and Oklahoma State (10).
It marked the 16th time in the 22-year history of the Big 12 that KU was selected as the preseason favorite.
Later in the day, the USA Today preseason national poll was released and Kansas landed in third, with Duke picked first, Michigan State second, Kentucky fourth and Arizona fifth.
The top four teams in the preseason poll will all be in Chicago Nov. 14 for this year's Champions Classic, where Kansas will take on Kentucky and Duke will face Michigan State.
"If you've watched us practice, you would think third in your county," Self quipped of the lofty preseason position. "It doesn't mean much, but it'll certainly add to fan interest."
— BORDER WAR QUIZ: Test your knowledge of Border Wars past and enter to win a $25 Visa gift card.