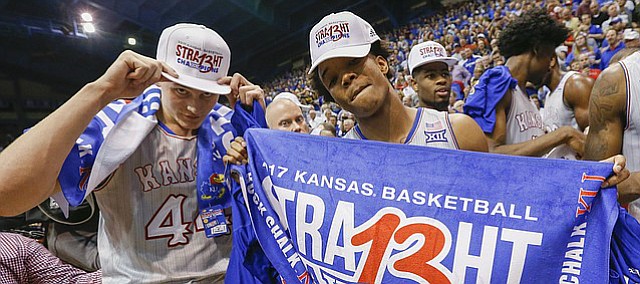 History awaits.
That's the message sent by the Big 12 men's basketball coaches on Thursday morning, when the conference revealed that Kansas was a unanimous selection to win its 14th consecutive Big 12 regular season title, breaking a tie with UCLA for the most all-time.
KU received all nine first-place votes from the rest of the league's coaches and finished 10 points ahead of second-place West Virginia in the preseason standings.
Because coaches cannot vote for their own teams, WVU received one first-place vote, from KU coach Bill Self, to finish second on the list with 71 points.
TCU (64), Texas (49) and Baylor (47) rounded out the Top 5.
Thursday marked the 16th time in the 22-year history of the Big 12 Conference that Kansas was picked as the preseason favorite. According to a KU press release, the preseason favorite has gone on to finish first in the regular season 14 times, which does not include 1996-97 as a coaches' poll was not conducted.
Kansas has won, or tied for, 17 of the 21 Big 12 regular-season titles, including the last 13 consecutive, a streak which ranks tied for first all-time in NCAA Division I history with UCLA (1967-79). Kansas has been the preseason favorite in 13 of its 17 Big 12 regular-season titles.
Thursday's poll merely marked the latest honor in a busy preseason for the Kansas basketball program, which also saw senior point guard Devonte' Graham picked as the Big 12's preseason player of the year, sophomore guard Malik Newman named the preseason newcomer of the year and Graham, Newman and Svi Mykhaililuk all earn preseason all-Big 12 accolades.
Here's a look at the complete preseason coaches poll:
1 - Kansas - 81 (9)
2 - West Virginia - 71 (1)
3 - TCU - 64
4 - Texas - 49
5 - Baylor - 47
6 - Oklahoma - 43
7 - Texas Tech - 36
8 - Kansas State - 27
9 - Iowa State - 22
10 - Oklahoma State - 10