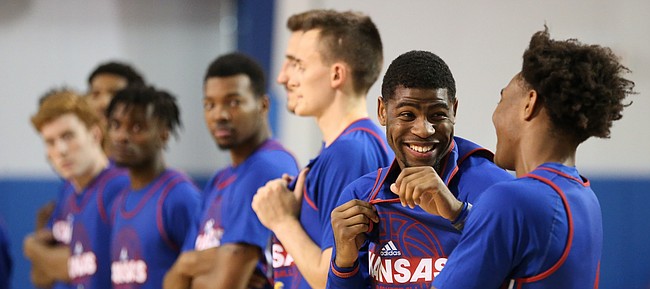 You don't have to look farther than Malik Newman's head to discover the true magnitude of Sunday's Showdown for Relief exhibition game between Border War rivals Kansas and Missouri at Sprint Center in Kansas City, Mo.
Sure, none of the players on either side have any direct connection to the bitter rivalry. Most of them had heard very little about it until this week. And, when it's all in the rearview mirror, both KU and MU still will be 0-0 with an entire season ahead.
But that has not stopped the Jayhawks from feeling the buzz surrounding the first meeting — official or otherwise — between these two programs since February of 2012.
Podcast episode
On this episode of the KU Sports Hour, hosted by KU basketball beat writer Matt Tait, the KUsports.com staff talks about the resurgence of the Border War, dubbed the "Showdown for Relief." Topics include: should this game be happening? (4:30-15:10), how seriously will everyone take it? (15:10-29:15), Border War memories ...
Podcast episode
Kansas basketball coach Bill Self talks about Sunday's exhibition game against Missouri (players will be allowed seven fouls), how the team looks after several practices and what he hopes to see from his squad.
And Newman is darn sure going to be ready.
"Excuse my hair," the KU sophomore said as he walked into Thursday's meeting with the media at Allen Fieldhouse. "It's another bad hair day for me. I'm trying to wait to get a haircut, wait 'til like Saturday, Saturday night."
The reason? Newman, in his latest unofficial first game as a Jayhawk wants to look as sharp as possible when he takes the floor for Sunday's 3 p.m. tip-off in front of a divided and sold-out Sprint Center.
"(KU coach Bill Self) hasn't spoke about how big the rivalry is or anything like that," Newman said. "But, just being at Kansas, once they announced the game, you can kind of tell how big it is. … Social media, fans going back and forth, even at Ladies Night Out (Wednesday) night, once coach said something about the game they got fired up and had a few words to say about the game. You can just tell by the atmosphere from the fans, the coaching staff, former players. You can just tell."
Sophomore forward Mitch Lightfoot echoed Newman's words about the big time feel of what, on the schedule at least, will go down as a meaningless game. And, as a young man who grew up a Kansas fans thanks to a little nudging from his parents, Lightfoot said he was eager to get a taste of something he had only been able to watch from afar during his younger days in Arizona.
"We've heard about the intense rivalry and just how today, not being able to play them, we don't get to see that intense rivalry," Lightfoot said. "But former players tell us how that's a big thing and it's kind of special that we get to do that again."
One such player who let his voice be heard this week was former KU point guard Sherron Collins, who was 7-1 against the Tigers during his stellar Kansas career.
"He just told me to go out, have fun, compete and know that, once upon a time, it was a huge rivalry and it means a lot," Newman said of a recent chat with Collins. "I think that'll be a great way to get the season started, sold-out house, for a great cause and just going out having fun and competing."
Although the Jayhawks have only practiced a couple of times this week, Newman said he could feel a change in the gym and Self said he expected that to continue throughout the days leading up to tip-off.
"You kind of go from practice intensity to kind of game-mode intensity," Newman said. "With it being Missouri, it even goes up even higher than what it would be for a regular exhibition game."
Added Self: "Fans may look at it more than an exhibition game, but it's an exhibition game. We want to play well, but we'd want to play well regardless of who we're playing and they'd want to play well regardless of who they're playing. But there's definitely going to be some more energy in the building, obviously, because it'll probably be the most anticipated exhibition game in the history of exhibition games."
— BORDER WAR QUIZ: Test your knowledge of Border Wars past and enter to win a $25 Visa gift card.